Fallout 4 Gold Bundle: 5 Things You Need to Know
We continue to see new Fallout 4 release details emerge ahead of the game's November release date. Today, it's a new Fallout 4 deal from Best Buy in the form of a Fallout 4 Gold Bundle.
With just a few weeks to go before the highly anticipated Fallout 4 release date, we're starting to see some of the final details fall into place.
Last week, Bethesda confirmed a collection of Fallout 4 release date information that outlined the game's specific release time, the Fallout 4 file size, and more. Earlier this week, the company started taking orders for a special Fallout 4 Xbox One controller. It also started taking additional orders for the Fallout 4 Pip Boy Edition.
Bethesda and its partners have stayed busy in the buildup to one of the year's biggest video game releases and today we have some new details to share with those of you that want something more from your Fallout 4 order.
Today, Best Buy confirmed a Fallout 4 bundle of its own called Fallout 4 Gold Bundle. Here, we take a look at a few things you need to know about the Fallout 4 Gold Bundle and its release. Keep these in mind as we approach the game's November 10th release date.
Fallout 4 Gold Bundle
Best Buy's Fallout 4 bundle isn't as exciting as the Fallout 4 Pip Boy Edition or some of the other Fallout 4 bundles out there but it's still worth a look.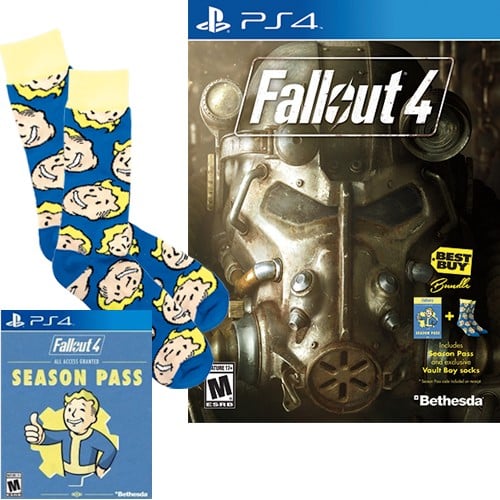 The Fallout 4 Gold Bundle comes with three items. You'll get a copy of Fallout 4 for Xbox One or PS4 (it's not available for PC), you'll get a Season Pass and you'll get a pair of Vault Boy socks to add to your wardrobe.
Not bad for an $85 bundle.
It's A Deal
Best Buy's Fallout 4 Gold Bundle is actually a good deal.
The standalone game for Xbox One or PS4 will set you back $60. Bethesda's Season Pass will run you another $30. So if you buy them separately without any discounts, you'll be spending $90.
If you buy them bundled from Best Buy, you'll save $5 and get a pair of socks to give to your significant other or sibling during the holidays. Or hey, maybe you just keep them for yourself. It's up to you.
There are a number of other Fallout 4 deals out there but this is certainly one to keep in mind as we approach the game's release date in November.
Some Other Details
There are a few other things to know, right now, about Best Buy's Gold Bundle.
As far as we can tell, this bundle is a Best Buy exclusive and it's limited to shoppers in the United States. (We can't find it in Canada.)
Also, as of right now, we're unable to buy it with in-store pickup. It's forcing us to put in an address for a delivery on September 9th, not September 10th.
One more thing. If you are a Best Buy Gamers Club Unlocked member, you can get this bundle for $68. Or, $8 more than the standard version of the game.
Fallout 4 Season Pass
If you're unfamiliar with the bundle's Season Pass, here's what you need to know.
Bethesda's $30 Season Pass will give you access to all of its Fallout 4 DLC. The developer hasn't announced what DLC will be released but it's safe to assume that you'll get new quests, gear, zones, and more.
The company says that the DLC will be worth $40 at the very least and that the first DLC release will come sometime in 2016, not 2015.
Midnight Fallout 4 Release Date
Finally, it's worth noting that Best Buy is going to be hosting midnight Fallout 4 release date events at select stores.
With the in-store pickup option currently not available for this Fallout 4 Gold Bundle, it's not clear if the retailer will be able to deliver the game right at midnight ET on November 10th.
We expect to learn more about the Fallout 4 Gold Bundle and we'll continue to update this page as we gather more details.
Fallout 4 Release Date: 5 New Details
Fallout 4 Vault Boy Controller
Bethesda and GameStop are currently taking pre-orders for a limited edition Fallout 4 Vault Boy controller for Xbox One.
The controller, which is set for a limited run, is currently available for $60 through both stores and it will ship out in time for the Fallout 4 release date on November 10th. Here's what you'll get for $60:
- Officially licensed by Microsoft for Xbox One
- Features Vault Boy licensed artwork from Fallout 4
- Vibration feedback rumble motors
- 3.5mm headset jack with onboard audio controls
- Detachable 10' USB cable
- Compatible with PC
The device isn't sold out yet but there's a very good chance Bethesda and GameStop will sell out of it soon. If you've been looking for an accessory to pair with your copy of Fallout 4, this controller might be something to look into.
Note: If you buy from Bethesda, you will be charged right away. If you order from GameStop, the "billing does not occur until shipment is processed."

This article may contain affiliate links. Click here for more details.