New Fallout 4 Details: PC Release, Gameplay & More
We continue to see new and important Fallout 4 release details emerge as we push towards its November release. Today's batch of new information includes fresh details about the game's ending, Fallout accessories and the highly anticipated PC Fallout 4 release.
As we move away from Bethesda's Fallout 4 debut at E3 2015, we continue to see new and exciting Fallout 4 release details emerge for Xbox One, PS4 and PC. Over the past few weeks we've seen new Fallout 4 bundles, tempting Fallout 4 deals, Fallout 4 Pip Boy alternatives, and an assortment of other information arrive.
Now that we're heading into the month of August, we don't expect the flow of information to slow down. We still have several months to go before the Fallout 4 release date (November 10th) and there's a very good chance we'll see new important details appear throughout the month of August.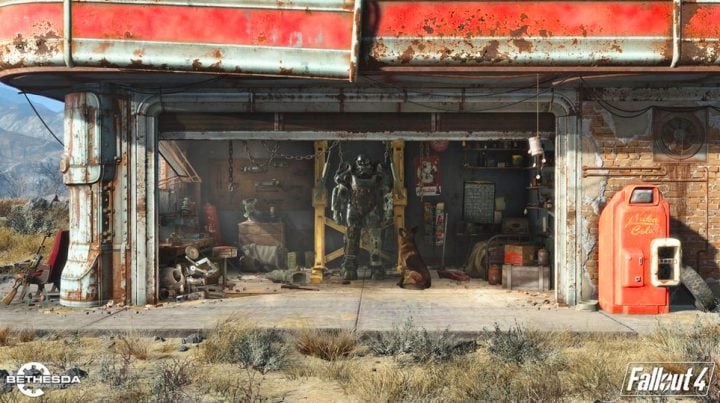 In fact, we've already managed to track some down and today we want to tell you about a few key details that Fallout 4 buyers need to know about as we push deeper into the summer.
New PC Fallout 4 Release Details
If you are planning to buy the PC version of Fallout 4, it's important to know that you'll activate the physical copy of the game through Steam.
Bethesda's Pete Hines recently confirmed this to be the case and it doesn't come as much of a surprise. Physical copies of Elder Scrolls Skyrim were also activated through Steam.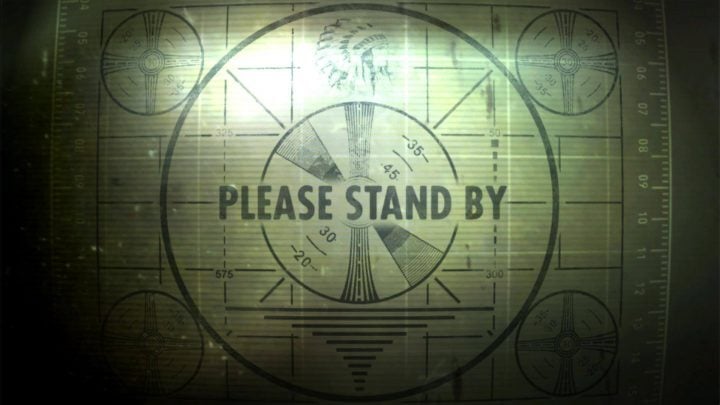 A small footnote but something that PC buyers will want to keep in mind as we count down the days to the Fallout 4 release date.
Fallout 4 PC Requirements
One question that Bethesda continues to get from Fallout 4 buyers is about the game's requirements for PC. Fallout 4 is a huge complex game and it will likely require at least some modern hardware to run.
The company still hasn't outlined the minimum or recommended PC requirements and it looks like it may not until we get much closer to the Fallout 4 release.
@MojoCollision don't have info I can share and likely won't until system specs are released a month before launch

— Pete Hines (@DCDeacon) August 6, 2015
Hines says that the company typically releases PC requirements about a month ahead of release. In Fallout 4's case, this could mean that we get PC requirements in October. He also says that that will probably be when the company outlines how much space the game will require. Again, this is an open-world game and it should be pretty big.
Fallout 4 Level Cap & Story
The company's also been getting a lot of questions about how the leveling system will work and how the game's ending will work. Sometimes, games just end. Other times, they allow you to continue even after the main story line is done. Skyrim is a perfect example of the latter.
This week, Bethesda took to its official Twitter account and confirmed some good news. Fallout 4 won't come with a level cap and it also won't end after the main story line is over.
To our fans who've asked: Fallout 4 doesn't end when the main story is over and there is no level cap. You can keep playing and leveling.

— BethesdaGameStudios (@BethesdaStudios) August 6, 2015
This doesn't come as much of a surprise given Bethesda's past but the confirmation should still be comforting for a lot of people. 
Fallout 4 Weapon
In response to a question about an item from Fallout Shelter, Bethesda's mobile game for iOS and Android, he seems to confirm an upcoming weapon for Fallout 4.
The item in question is a weapon called Farmer's Daughter and it will apparently make an appearance in Fallout 4. With a name like that, there's a chance that it could be a unique weapon of some kind though that's not confirmed yet.
Limited Edition Fallout Accessories
And finally, for the hardcore Fallout fans out there, it's worth pointing out a limited edition shirt that Bethesda has on sale ahead of the game's release.
We've seen numerous Fallout accessories emerge in the buildup and this one is interesting given that it's only going to be sold for a short period of time.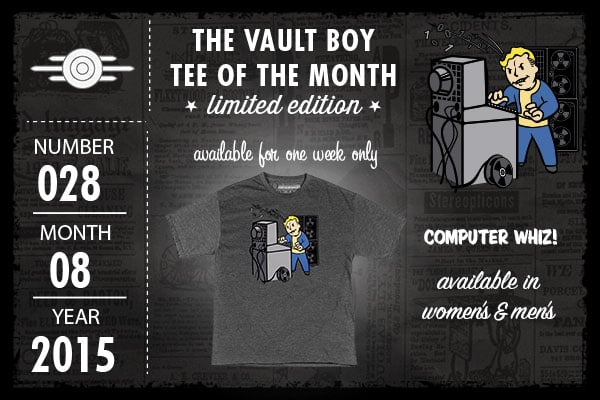 Bethesda's Computer Whiz Vault Boy shirt will be on sale for one week. The shirt went on sale, Friday, August 7th which means that you still have some time to convince yourself, or your parents, to buy it.
The shirt is $20 and it will start shipping out September 2nd, or, about a month before Bethesda starts shipping out Fallout Anthology for PC.

As an Amazon Associate I earn from qualifying purchases.