Fallout 4 Release Date Details: Pip Boy, Custom Xbox & More
Several exciting Fallout 4 release details have emerged for PS4, Xbox One and PC including new U.S. Fallout 4 Pip Boy release details, information about the Fallout 4 PC requirements, and a chance to win a custom Fallout 4 Xbox One.
In June, Bethesda announced its long-awaited follow-up to Fallout 3. Fallout 4 is confirmed for PS4, Xbox One and PC and it will be hitting shelves on November 10th. The developer detailed a number of important release details on stage though we've seen a steady stream of info flow ahead of the fall.
In the past few days we've seen several important Fallout 4 release and release date details emerge for PC buyers, for PS4 buyers and for Xbox One buyers.
Today, we have a new batch of Fallout 4 release details to share and they include information about the elusive Fallout 4 Pip Boy, details about the Fallout 4 season pass, and more.
Bethesda continues to get questions about the Fallout 4 PC requirements ahead of the game's November 10th release date. The developer has told buyers that it usually releases them about a month before a game's release and that's what buyers should expect at this point.
@John_Cooke920 @Fallout expect something in October

— Bethesda Softworks (@bethesda) September 20, 2015
The Bethesda Softworks Twitter account recently told an inquiring mind to expect the Fallout 4 PC requirements release in October. A specific date wasn't confirmed but it looks like they will come sometime in October, not September. The company has also confirmed that it will be releasing its Fallout 4 Season Pass on Steam in the near future. Bethesda's Pete Hines says that he doesn't have an exact date but that he's been told it will go up for sale on Steam "soon."
@MrShavargo_SC2 don't know the exact date yet but I'm told it should be up "soon" — Pete Hines (@DCDeacon) September 19, 2015
Bethesda's $30 Fallout 4 Season Pass will allow PC, Xbox One and PS4 owners to pay money for all of the game's upcoming DLC. The developer has said that the first Fallout 4 DLC will arrive in 2016 though a specific date is unknown.
The company has also confirmed a mountain of other Fallout 4 release details with the arrival of a brand new Fallout 4 contest that includes a Pip Boy, a trip to Boston, and a custom Fallout 4 version of the Xbox One.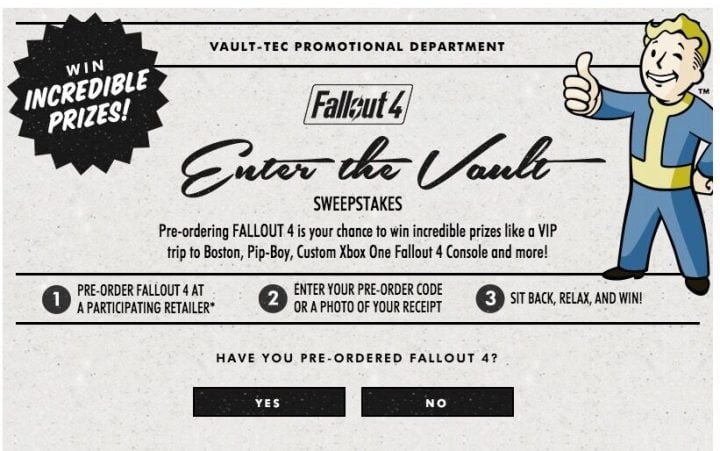 In addition to the Countdown to Fallout 4 Giveaway, Bethesda is also hosting an Enter the Vault Sweepstakes that lasts from now all the way up until the game's release date on November 10th. Bethesda says that it will announce the winners on November 13th, a few days after the game comes out.
There are several ways to enter Bethesda's new Fallout 4 contest to become eligible for its prizes. Those who have already pre-ordered the game will need to either input a pre-order code or submit a photo of the receipt that shows a successful Fallout 4 pre-order.
The company says that the contest is available to PC, Xbox One and PS4 pre-orderers and that it includes all participating retailers. The company also says that you'll be able to enter the contest without a Fallout 4 pre-order for PC, PS4 or Xbox One.
To submit a sweepstakes entry without pre-order/purchase, hand-print your name, address, city, state, zip code, daytime phone number, and email address (optional) on a plain 3"x5" piece of paper, place in a stamped envelope and mail to:

Marden-Kane, Inc., Attention: BH – Fallout 4 Sweepstake,
195 Froehlich Farm Blvd
Woodbury, New York 11797
This new Fallout 4 contest features a number of exciting prizes including an elusive Pip Boy, a custom Fallout 4 Xbox One that's probably the Fallout 4 Pipbox the company outed several weeks ago, Fallout Anthology for PC, and a Fallout 4 Season Pass.
Unfortunately, the contest is only open to Fallout 4 buyers in the United States at this time and it's not clear if the company will extend the contest to buyers in other parts of the world.
Bethesda won't be making any more Pip Boys ahead of the game's release. And with resellers asking for $500 or more ahead of the release date, these contests are the best way to try and acquire an official version of the Pip Boy ahead of the game's arrival.
The company is also set to release a limited edition Fallout 4 Loot Crate though it's not clear if the wearable inside the bundle will be a Pip Boy or something else.
Fallout 4 Pip Boy Edition Release: 10 Things to Keep in Mind
Fallout 4 Pip Boy Edition Contest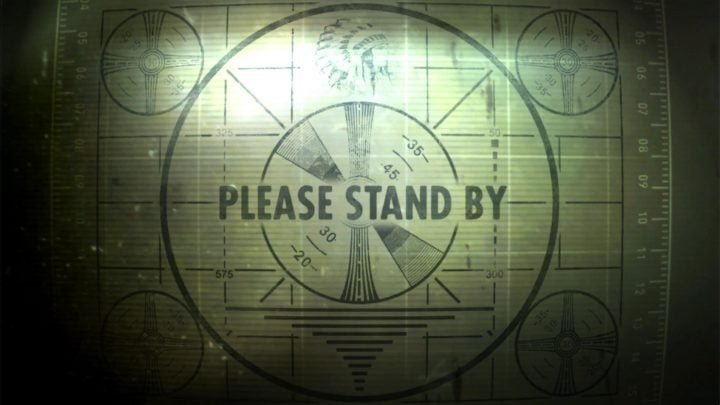 The first thing to keep in mind is the Countdown to Fallout 4 Giveaway that Bethesda is holding ahead of the Fallout 4 release date on November 10th. If you want a Fallout 4 Pip Boy Edition and you don't want to pay a cent, this is the contest for you.
All you need to do is enter your email address and subscribe to Bethesda's newsletter. We entered several weeks ago and we haven't been spammed so there's no need to be skeptical. There's also no purchase necessary.
In October and November, Bethesda will randomly select winners. Five people will be walking away with a copy of Fallout 4 Pip Boy Edition. Make sure you sign up soon because we're creeping closer to the month of October.
If you already signed up, make sure you're following along next month ahead of November 10th.