Fallout 4 Release: Pre-Order Bonus Revealed
As the Fallout 4 release date approaches, we continue to see new and exciting details emerge. Today, Bethesda's confirmed a brand new Fallout 4 pre-order bonus that should make some Xbox One, PS4 and PC users very happy.
Bethesda and Fallout 4 have stayed busy in the weeks since the game's big reveal at E3 2015. We've seen detail after detail emerge including a new contest that features a Pip Boy, a custom Xbox One and a trip to Boston as prizes.
With the Fallout 4 release date fast approaching, Bethesda's kicking its marketing into high gear and today it has confirmed yet another key release detail that should be music to the ears of many Fallout 4 buyers.
Today, Bethesda released a flurry of new Fallout 4 details which include information about gameplay and a brand new pre-order bonus that will be included in all pre-orders of the physical version of the game.
Bethesda's announcements center around the leveling system and perks that will play a big role in the development of Fallout 4's main character.
Levelling is experience point (XP) based like Fallout 3, not skill-based like Skyrim. But levelling speed is closer to Skyrim, and not as slow as Fallout 3.
Additionally, whereas Fallout 3 had an initial level cap of 20, Fallout 4 has no level cap, and we've balanced the game to keep the content and challenge going for higher levels.
And on top of all that, you also get separate Perks from the many in-game magazines you can find (there are over 100). Some of these grant an individual Perk, while others up the rank of a Perk associated with that magazine. For example, there's a 10-issue run of Grognak the Barbarian comics that each give you an additional rank of the Barbarian Perk, which raises the critical damage of melee attacks.
The Fallout 4 pre-order bonus ties in with the company's big reveal. The developer says that it will be including a free Fallout 4 poster inside pre-orders of the physical pre-orders of the game. The company is selling physical copies of the PS4, Xbox One and Windows version of the game.
The Perk Poster shows off the S.P.E.C.I.A.L. system and the many perks that you'll be able to choose from as the character levels up. These range from Gunslinger to Gun Fu to Iron Fist.
The company doesn't mention anything about digital pre-orders. It's not clear if the company will sell the poster separately or those who pre-order the digital version of the game will have to find other means of acquiring this unique poster for their collection.
With just weeks to go before the Fallout 4 release date, the company continues to tease the game and give away prizes. Earlier today, the company confirmed that a few lucky entrants in its Countdown to Fallout 4 contest won a Fallout 4 messenger bag.
In October, Bethesda is set to give away several copies of the elusive Fallout 4 Pip Boy Edition. The collectors version of the game is sold out in the United States and it won't be coming back before the game's release date.
Those looking to snag one ahead of the release date will want to keep an eye on Bethesda's two Fallout 4 contests and resellers like eBay. Fallout 4 Pip Boy Edition pre-orders have been selling for $400 or more and the price could only increase as the game becomes even more visible ahead of November's launch.
PC Fallout 4 Release: 5 Things to Have On Your Radar
Fallout 4 Contests & Fallout 4 Loot Crate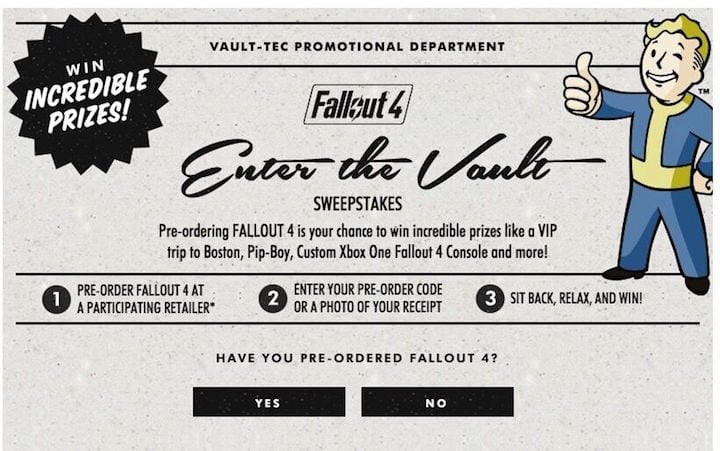 You should have Bethesda's two Fallout 4 contests on your brain ahead of the PC Fallout 4 release. Why? Because entry is free and you could win a number of excellent prizes including a Pip Boy or a Fallout 4 Pip Boy Edition for PC.
The company is hosting two contests. One is the Countdown to Fallout 4 contest that will see several people win Fallout 4 Pip Boy Editions in the month of October. If you've already entered, you'll want to keep your eyes peeled for the winners in a few weeks.
In addition to the sold out Fallout 4 Pip Boy Edition, Bethesda is also giving away some excellent collectibles including clothing and statues. If you want to pair your game with some extras, this is a contest you'll want to keep an eye on.
The other contest is the Enter the Vault Sweepstakes that started just a few short days ago. To enter, you'll either need to relay some information about your PC Fallout 4 pre-order or, if you haven't pre-ordered, send in a card with your information.
Bethesda is giving away an assortment of prizes including a free trip to Boston (the game's setting) and a Pip Boy that would go nicely with your copy of the game for Windows. Both of these contests should be on your radar.
You should also keep an eye open for the start of Fallout 4 Loot Crate pre-orders. The Loot Crate won't come with a copy of the game but it will come with some interesting collectibles.

This article may contain affiliate links. Click here for more details.