Fallout 4 for PS4 & Xbox One: Everything We Know Right Now
Earlier this week, Bethesda finally confirmed the Fallout 4 release for PS4, Xbox One and PC. The game, which is years in the making, now takes its rightful place amongst the year's most anticipated video games. With that and E3 2015 in mind, we take a look at everything you need to know right now about the Fallout 4 release and release date.
Its been nearly seven years since Bethesda released its critically acclaimed addition to the Fallout series. Fallout 3 was released in 2008 and in the years since, fans of the series have craved a successor to one of the games that blew the door wide open for open-world adventure games. Fallout: New Vegas was an excellent title though it isn't considered a true sequel to Fallout 3.
Fallout 4 rumors have been flying around since 2012 and up until this week, Bethesda's long rumored game was simply that, a rumor. Earlier this week, Bethesda finally came to life and teased an announcement that would end up being the signs of life that fans of the Fallout series had been waiting for.
The Fallout 4 release is confirmed thanks to an epic trailer that Bethesda Softworks released to hold fans over until the company is able to make its grand reveal in just a few short days.
Bestheda's Fallout 4 trailer revealed a number of key details including the setting and some of the game's main characters. We've also seen a number of other details emerge including clues regarding the Fallout 4 release date. We expect to hear a whole lot more about the Fallout 4 release in just a few short days but today, we want to take a look at everything we learned this week and everything else you need to know about this big AAA title.
Fallout 4 at E3 2015
The Fallout 4 teaser released this week was only the first course. The main course will be coming at E3 2015 in Los Angeles when Bethesda takes the stage for its first big press conference at E3. This is a huge moment for the company that's known for a variety of games including the Elder Scrolls series.
Bethesda's press conference will be live streamed on June 14th so that fans of the Fallout series and those interested in it for the first time will be able to see all of the announcements unfold in real time. Bethesda's E3 2015 press conference starts at 6:30PM PST which means that those of you on the east coast of the United States will have to stay up late to catch the day's big reveal.
Fallout 4 Release Date
Bethesda's Fallout 4 trailer was epic but it was extremely light on the details. Namely, the Fallout 4 release date that gamers have been waiting for for seven years. We expect those details to emerge on June 14th but in the meantime, here's what we know about the Fallout 4 release date.
Amazon and GameStop are both showing December 31st, 2015 placeholder release dates. The game won't be released on New Years Eve but the fact that they have the game listed in 2015 is certainly interesting. And then there are these two details that provide some clarity.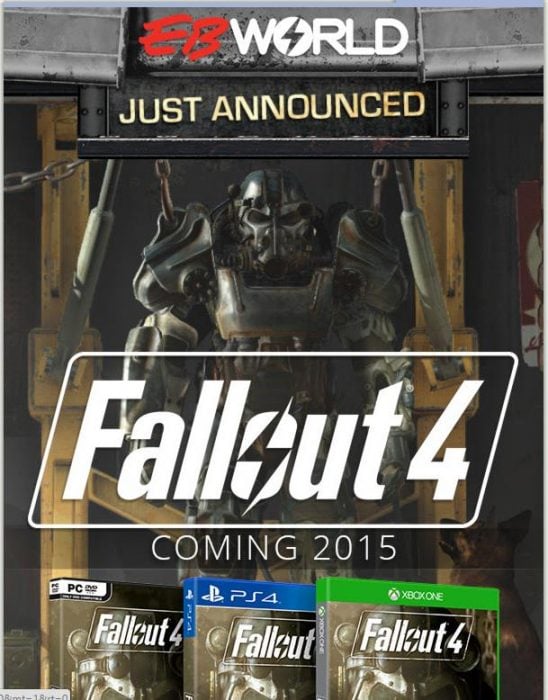 A user on NeoGaf posted promotional materials for the Australian release at EBGames and the image clearly states that the Fallout 4 release date will land in 2015.
The second clue comes from Bethesda's own website. At one point, the website listed the Fallout 4 release date as "TBA 2015." The release date is now listed as TBA.
So, while nothing is certain, all signs point to a Fallout 4 2015 release date. If that's the case, then we wouldn't expect it to arrive until sometime just before the start of the holiday shopping season so Bethesda can take advantage of the pull that those months of the year bring.
Fallout 4 Release: PC, Xbox One, PS4
Fallout 4 is confirmed for the PC, Xbox One and PS4. Ahead of the teaser reveal, source code from Bethesda's website hinted at a release for Xbox 360 and PS3. It doesn't look like that will be happening though.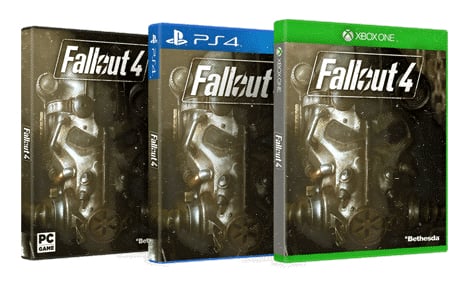 All of the promotional material that we've seen only lists the three variants of the game and the Fallout 4 pre-orders that we live earlier this week do not include PS3 or Xbox 360 versions of the game.
In 2015, we've seen developers start to shift away from the last-generation consoles in favor of the PS4 and Xbox One and at this point, those who own a PS3 or Xbox 360 will probably want to temper expectations. We're not expecting a Fallout 4 release for either system. Not this year, not ever.
Fallout 4 Pre-Orders Live
If you want to order Fallout 4 ahead of the big reveal at E3 2015, you are more than welcome to. Bethesda and its retail partners are currently taking early orders for all three versions of the game though there are a few caveats that you need to be aware of before you do.
Some retailers like Bethesda will charge your card right now for the game. Others, like Amazon, won't charge your card until the game ships out.
Fallout 4 Deals
If you're looking to order now or in the future, know that there are some Fallout 4 deals out there.
GameSpot recently tracked down an offer from Green Man Gaming that chopped the PC Fallout 4 price down to a mere $46 ahead of its release. Green Man Gaming is well known for offering deals on PC games ahead of time so that's a place to keep an eye on if you're planning to buy the game.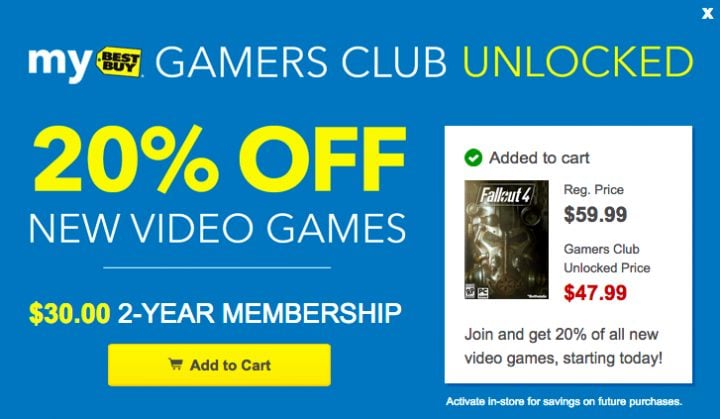 Best Buy is also offering 20% off the Fallout 4 price to those who are part of its Gamers Club Unlocked program. The program is worth a look if you plan on buying a ton of titles, including Fallout 4, later this year.
Best Buy's Gamers Club Unlocked program costs $30 for two years making it a sound investment for those that buy or pre-order tons of games.
Fallout 4 Boston
Bethesda hasn't said too much about the plot or the gameplay but we and many others were able to glean some important details from the game's first trailer.
In the buildup to the reveal, Fallout 4 rumors hinted at a Boston setting for the game. Fallout 3 took place in and around Washington D.C. so the move to another big city on the east coast made a whole lot of sense.
The Fallout 4 teaser confirmed Boston to be the game's setting thanks to a series of landmarks that should be recognizable to anyone familiar with the Boston area.
The trailer features the Bunker Hill Monument, the Massachusetts State House, the Paul Revere statue, Fenway Park, and the remnants of the USS Constitution. We also get a glimpse of what appears to be a massive wasteland outside of the city itself.
Fallout 4 Characters
The trailer's also confirmed several characters and potential enemies. In it, we see The Vault Dweller who is the main protagonist from the first game. In Fallout 3, Bethesda allowed you to customize the looks of your character and we might see the same here in Fallout 4.
Dogmeat is a dog that's appeared in every single numbered Fallout game (Fallout 1, Fallout 2, Fallout 3) and the trailer shows a dog companion that's probably Fallout 4's version of Dogmeat.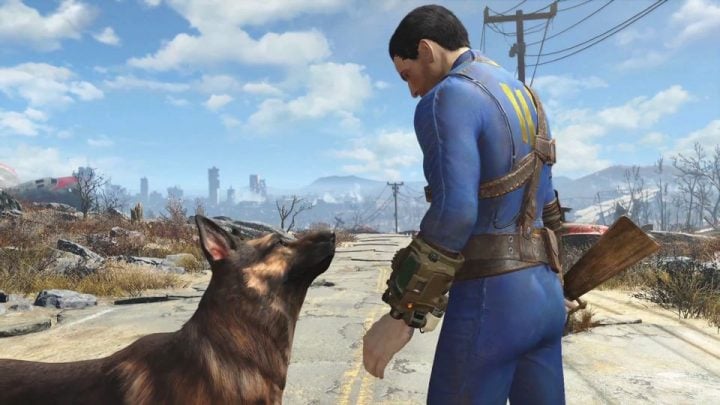 Fans of the Fallout series will also spot the Mysterious Stranger, a Deathclaw, Mister Handy the robot who appears inside of a home, a Protectron robot, a robot eye that appears to be from the Enclave, and Feral Ghouls who featured prominently in Fallout 3.
These are only a few of the characters that are expected to emerge.
Other Details
In the trailer, we've spotted a Nuka Cola machine, Power Armor that's presumably from the Brotherhood of Steel, a laser rifle and a number of other weapons, Vault 111, and comic books that were used as skill boosts in Fallout 3. In other words, it looks like there will be a lot of continuity between the two games. Some things never change.
If none of this makes any sense to you, we suggest taking a look at the extensive Fallout wiki. It offers a mind-boggling number of details about Fallout lore and it's a quick way to catchup ahead of the event.

This article may contain affiliate links. Click here for more details.