Fancy Fujitsu prototypes at CEATEC 2010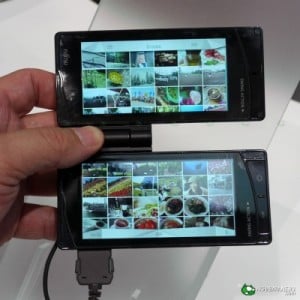 Fujitsu is at CEATEC 2010 this week showing off some fancy concept designs and prototypes at their booth. Among them are a couple of Windows 7 slates and this dual-screen, dual-configuration phone device, which offers a new twist on the flip phone.
Everything is just for show, of course, so no specs or release dates or anything like that. Just good old eye candy. It's good to know that Fujitsu is still thinking about slates despite a recent pronouncement of a "slate-beating" convertible. The launcher screens on their Windows 7 slates are more attractive than the utilitarian shortcut launcher on the T900.
More photos and a video at Akihabara News. Hat tip to NetbookNews.com

As an Amazon Associate I earn from qualifying purchases.