Fantastic Four: 4 Things Viewers Should Know
Fantastic Four is releasing in theaters this weekend, and if you're planning on watching the new movie, here are some things that you should know before heading to the theater.
Fantastic Four is Marvel's latest movie to hit theaters, just a couple of months since the release of The Avengers: Age of Ultron.
The new film features Miles Tellers as Mr. Fantastic, Michael B. Jordan as The Human Torch, Kate Mara as The Invisible Woman, and Jamie Bell as The Thing, with Toby Kebbell playing Dr. Doom.
Like many Marvel movies, Fantastic Four revolves around these five main characters, as four of them must save the world from Dr. Doom. The four characters are transformed into an alternate universe where their physical abilities are altered in shocking ways, giving them all sorts of powers.
Obviously, Fantastic Four is based on the comic book series, and the new movie follows in the footsteps of previous Fantastic Four films and TV shows.
Here's what viewers need to know about the new Fantastic Four movie before heading to the theater.
Catching Up
While this new Fantastic Four film probably doesn't rely heavily on previous Fantastic Four movies and TV shows, it's always a good idea to watch the older versions just to become more familiar with the characters and storyline of the series.
Furthermore, many Marvel films include connections to other Marvel films, so if you have the time, it never hurts to watch a few recent Marvel movies just to have some knowledge about the Marvel universe as a whole.
The good news is that Fantastic Four doesn't look to include any characters from other Marvel movies, so you should be fine as far as the connections to other films are concerned.
Fantastic Four Reviews
If you're wanting to read some reviews of the new Fantastic Four movie before you head to the theater, you can check out ratings and read reviews on a number of websites and apps, like IMDb, Rotten Tomatoes, Flixster, and more.
You can see ratings for the movie from critics, as well as regular movie goers like yourself. IMDb also has written reviews from regular folks who saw the movie, which give you a better idea of what people thought of the film.
One thing to keep in mind is that you should take reviews with a grain of salt. Everyone's opinions are different, so don't let some bad reviews lessen your expectations. There are plenty of movies that you've probably enjoyed that got bad ratings, and Fantastic Four could be one of them.
Buying Fantastic Four Tickets
If you want to buy your movie tickets before you even get to the theater and don't want to wait in line, you can buy Fantastic Four tickets right on your smartphone.
With the Fandango app, you can look up movie theaters, show times, and even buy movie tickets right from the app. Not many users know you can do this, but it's a feature that's well worth taking advantage of.
You can buy movie tickets and then pick them up at the box office, or if the movie theater supports it, you can simply use your smartphone as a digital movie ticket, and the theater will scan your phone when you arrive.
Getting to the Theater
You can buy your movie tickets right on your smartphone, but they don't help if you can't get to the movie theater.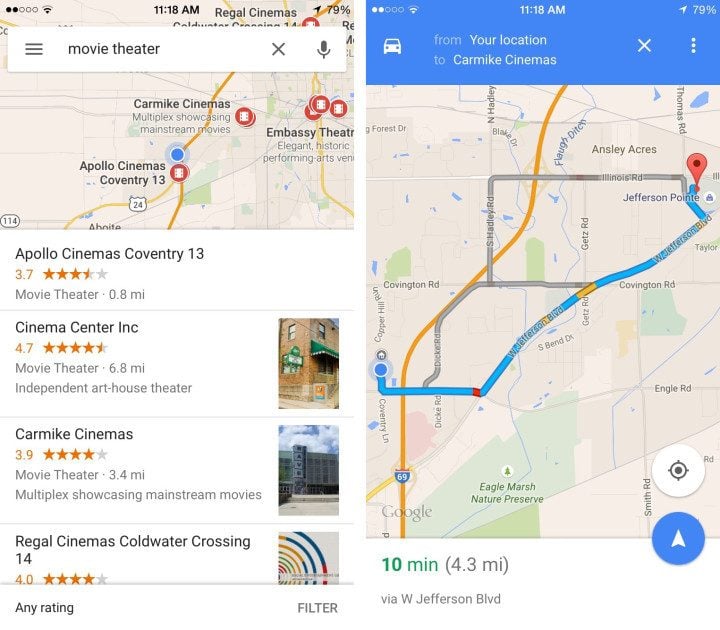 You most likely already know how to get to the movie theater if you're at home, but if you're out of town and aren't quite familiar with the neighborhood, then you'll want Google Maps, which can get you to the nearest movie theater.
Furthermore, Google Maps provides you with real-time traffic and gives you an estimate on your arrival time, that way you'll know if you'll have time to get some popcorn and soda before the movie starts.

As an Amazon Associate I earn from qualifying purchases.