Far Cry Primal Release: 5 Things to Know
The Far Cry Primal release date is official as the next game in place of Far Cry 5. Here's what you need to know about the new Far Cry game that goes back to the stone age.
Far Cry Primal is the name of Ubisoft's next Far cry game, and instead of picking up in Kyrat with Pagan Min, you go back into history, much farther back than we've seen on a recent game.
Similar to the Fallout 4 announcement there is no huge wait between the Far Cry Primal announcement and the Far Cry Primal release date.
Here's what gamers need to know about the Far Cry Primal release date and the new game.
Far Cry Primal Release Date
Ubisoft announced the new Far Cry and confirmed the Far Cry Primal release date after a long teaser on YouTube.
The Far Cry Primal release date is February 23rd 2016 on disk and digital. Gamers can already pre-order Far Cry Primal from Amazon and other retailers. A Standard edition is available now, but it wouldn't be surprising to see a special edition come closer to the release date.
Play Far Cry Primal Early
We're waiting on the exact details, but at the end of the Far Cry Primal trailer there is a teaser to play Far Cry Primal early in December.
This will likely be a Far Cry Primal beta or a Far Cry Primal demo, but we don't know what it is just yet.
Keep an eye on the Ubisoft landing page for options to sign up to play early.
Far Cry Primal Trailer
The announcement came with the Far Cry Primal trailer that shows off the start of Far Cry Primal with an attack on your tribe and family that leave you as the lone survivor.
Watch the Far Cry Primal trailer above for the official reveal of the new Far Cry game that is coming next year. There is Mammoth hunting, Saber tooth tigers and attacks from humans.
Far Cry Primal Setting
Where does Far Cry Primal take place? You play in the Stone Age as the only survivor of your tribe. You start with nothing, and need to make your weapons with wood, stones and tools that you find. This is an open world with human and animal enemies that will attack you.
At the start you must simply survive in a open world filled with danger, but then you will need to explore Oros and become the biggest predator that wildlife and humans have ever seen. You need to hunt to survive, use tools and create more powerful weapons.
There is an option to play as a mammoth, and we expect to learn more about the overall storyline and setting in the coming months.
Where Can You Play Far Cry Primal
Continuing the trend we are seeing with many games, you cannot play Far Cry Primal on PS3 or Xbox 360.
The only listings for the game are on PC, Xbox One and PS4. The game is $59.99 on each of these systems.
When the release date arrives the Xbox One and PS4 will be over two years old, and at this point many popular games are shifting to the new consoles and PC and leaving older consoles behind.
21 Best PS4 Games to Buy
Rocket League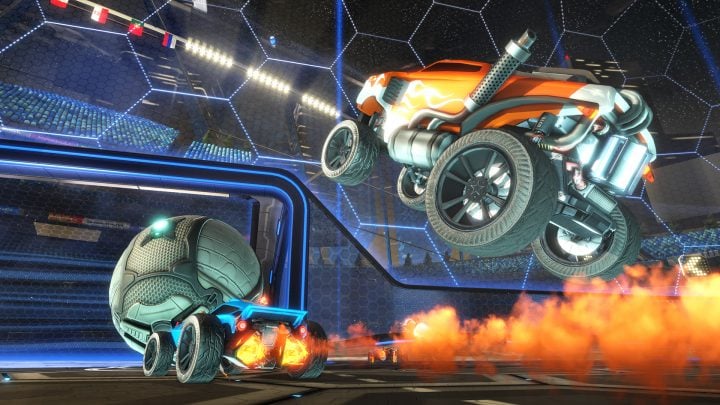 What happens when you play soccer with turbo-charged cars in a battlebots-like arena? You get Rocket League.
Rocket League is a fun and fast paced game that demands a spot on this list of the best PS4 games after consuming hours of our time in the last month after it appeared as a free PS4 game for PS Plus members. You can play locally, online and with friends plus you can customize your car.
Rocket League is $19.99 on the PlayStation Store and is also available for PC on Steam. Rocket Leage is coming to the Xbox One in 2016.

As an Amazon Associate I earn from qualifying purchases.