Faraday Future Intros 1000HP FFZERO1 Concept Car at CES
Faraday Future, the mysterious electric car maker, unveiled its first concept car at CES 2016 in Las Vegas. The Faraday Future FFZERO1 Concept isn't expected to go into production, but is a showcase of the company's technical chops.
The FFZERO1 is a single-seat supercar, but its platform can be used as the foundation for any sort of car, from an SUV to a compact car. Much of the cost of developing any vehicle is the chassis and platform, rather than the exterior shell and interior. This isn't the first time a company's pitched this strategy. Chevrolet pitched a similar concept years ago.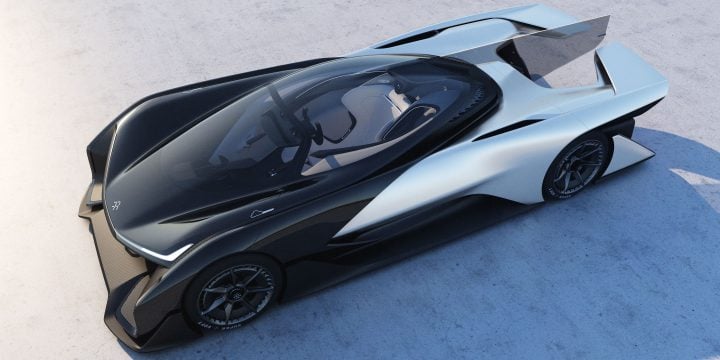 While the FFZERO1 is being touted as an original ground-breaking design, it does remind us of vehicles from F-Zero, a Nintendo video game. Flying Vehicles in that game looked futuristic and featured single-seat cockpits. The design and naming similarities make us wonder if Faraday Future's designers were inspired by games from their childhoods.
Faraday Futures executives likened its electric car platform to the introduction of the Apple iPhone nine years ago, stating that today's vehicles are far behind the electronics consumers use every day. They hope to disrupt the auto industry the same way Apple changed the phone industry.
Auto enthusiasts are drooling over the FFZERO1 that was showcased at a press conference at CES 2016, but they most likely won't get a chance to actually drive and buy this vehicle.
This video explains more about the concept and the vehicle's architecture and how it simplifies building a full range of electric vehicles. This kind of innovation could perhaps help Faraday Future catch up to established electric vehicle players like Tesla.
Here is a behind-the-scenes look at how this radically designed car was designed. While the company's first vehicle will likely look as radical as this, it's good to see that Faraday Future is clearly looking to shake things up.
Auto industry insiders are expecting that Faraday Future will begin selling its first production car in about two years.  The question remains if there is room for yet another electric car startup to go up against Tesla and the auto industry's old guard, which are increasingly pumping out electric vehicles.

As an Amazon Associate I earn from qualifying purchases.