Father's Day Tech Gift Guide: 15 Great Last Minute Gifts
Check out these great last-minute Father's Day gift ideas that are perfect for tech, photo and gadget loving dads.
Our Father's Day Tech Gift Guide only includes gifts available at Amazon and local stores so last-minute purchases don't need to look like last-minute gifts.
In order to receive the items in time for Father's Day makes sure to choose a fast shipping method. It might be a good time to invest in an Amazon Prime membership, which in itself makes a great gift for dads who use Amazon. Amazon Prime is $79/year and includes Amazon Prime Instant Video streaming, free 2-day shipping and $3.99 1-day shipping.
Our list includes the perennial favorite – gift cards – along with some more creative choices like sports equipment, great tech accessories and a pair of cool video players. We even included a tablet – the Kindle Fire. Some Fathers may prefer one of the lower end Kindle's made just for reading, also on the list. All of these gifts cost less than $205.
Tech Gift Cards
Let Dad do his own shopping so he can get what he wants.
We all like to receive gifts that pleasantly surprise us, but be honest. How many times did dad open a gift only to be visibly disappointed. My dad used to ask for socks, not because he liked them but needed them and didn't want me wasting his time with the junk I usually bought. Gift cards fix this problem because dad can get what he wants. I suggest one of four gift cards.
Amazon – Buy one in almost any amount and dad can buy almost anything he can imagine including apps for Android using the Amazon App Store
Apple iTunes – if dad owns an iPad, iPhone or Mac, then this lets him buy apps, songs, videos or books
Best Buy – they don't usually offer the best prices, but nearly every decent sized town has one
Generic Visa, Master Card or American Express – Buy one at a bank or grocery store in any amount
Verbatim STore 'n' Stay USB Drive
Verbatim designed these tiny drives to stay in a laptop USB drive without the worry of something sticking out.
It's impossible to add extra storage to the 64GB Apple MacBook Air without hardware dissection. Adding an ordinary USB flash drive works, but most of them stick out too far to keep in the computer all the time.
Verbatim solves this problem with a tiny drive that stays in the USB port all the time. There's no need to worry about it catching on a bag when traveling. The drive comes in sizes from 4GB to 16GB.
Amazon – 16GB for $15.16
Joby Gorillapod
Shutterbugs on the go love this versatile tripod that holds a camera in place in almost any environment.
Taking a sharp photo or a group shot that dad is still part of is easy with the Joby Gorillapod. The original Gorillapod comes in one of ten colors and holds smaller point-and-shoot cameras and with a special attachment it holds a smartphone too. The legs bend around bars, car doors or stand upright on a flat surface. If dad use a larger DSLR camera then opt for one of the larger Gorillapods. If dad's a more serious photographer, he'll love this Joby Gorillapod Focus with Ballhead X bundle at Amazon for $113. That's what I'm getting for my Father's Day gift.
Amazon – starting at $11.50 for lightweight version
Targus 3-in-1 Stylus
A stylus, pen and laser pointer all in one that offers enough weight to feel great while in use.
My favorite stylus comes from Targus and feels great when I write and ink with it. Unlike most dainty little styli, this one has some heft. If dad likes a weightier pen that feels more like a Mont Blanc than a Bic, he'll enjoy using the Targus 3-in-1. The pen writes smoothly and uses commonly found ink replacements. The stylus tip feels as good as a touch screen stylus can feel. He also gets a bright laser pointer for this presentations.
Targus Vuscape Case for New iPad
An elegant leather functions as a stand and includes a loop for a thin stylus.
I really like this case. It looks great, feels good and not only protects the iPad but offers some functionality. It holds the iPad as a nice stand for typing or viewing content. It also includes a loop for a stylus, if Dad likes to ink on his iPad. Targus promises its water-resistant so even though it won't protect the iPad if it gets submerged, it will keep the case from getting messed up if he sets it down on a ring of condensation at the dinner table. It comes in a number of colors, but I'm guessing Dad will want the black one.
iHome iDM12 Rechargeable Bluetooth Speaker System
Good portable rechargeable sound that works with any smartphone or tablet that includes Bluetooth.
https://youtu.be/pgiBu3AHY88
This set of speakers works anywhere thanks to the built-in rechargeable battery. Use it at the office, the park, on the beach or at home. The Bluetooth connection works with Android and iPhone or iPad. The battery lasts a long time and they sound pretty good for a small pair of speakers. The stand fits over the speaker to protect it on the go. iHome introduced them over a year ago, but they still work great and they are available at most Best Buy stores.
Logitech Tablet Keyboard for Android and iPad
A great Bluetooth keyboard with models designed for both iOS and Android devices.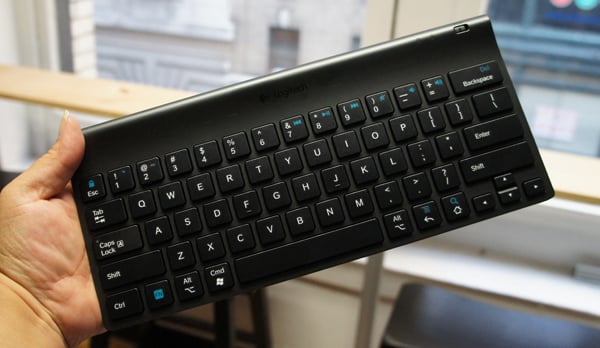 We reviewed this last year and then I recommended it as part of our keyboard roundup earlier this year on this great little keyboard. Logitech makes one that includes keystrokes for iPad and one for Android, but they work the same so get one and share them between the two. I use mine with my iPad and my Samsung Galaxy Note.
It has great feel and the spacing works for touch typists. It's not limited by the width of the iPad. It comes in a handy carrying case that doubles as a stand for a tablet or smartphone.
Roku 2 Digital Media Player
Like the Apple TV but with more media playing options for less.
Most people know about the Apple TV, but I think the Roku system offers a better selection of media playing features, especially for users who aren't heavily into Apple.
It hooks up to an HDTV via HDMI or Component Video and offers Netflix, Amazon Instant Video, plus dozens of other niche video and audio options. It's also possible to put home movies on a USB drive to watch.
Best Buy – $69.99 to $99.99
AViiQ Portable Charging Station
An all-in-one charging station that fits in a small pouch for easy travel and mobile charging.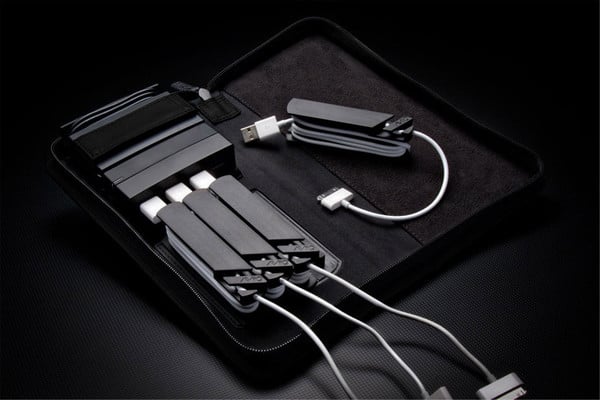 I own the older version of this handy charging station. Get Dad one so he can charge up to four devices on the road. The station comes inside a nice pouch and includes a four port charger with four cable handling "racks" for easy management.
Pick from one of two case options, either black leather or a cheaper nylon case.
AViiQ – $79.99 for nylon and $99.99 for black
Apple TV
A great little add-on for the HDMI enabled HDTV with movie and sports streaming.
The Apple TV brings simple streaming to a TV. Watch movies and TV shows from iTunes or rent them directly. Apple also delivers Netflix and other great streaming content. Sports fans love the ability to watch Major League Baseball, NHL and NBA games out of market.
If Dad owns an iPad, iPhone or Mac, then he can stream content from the device to the Apple TV over Wi-Fi. It works great as a way to enjoy movie collections when he hooks it up to a Stereo receiver via the HDMI or Optical Audio output.
Amazon Kindle
A great eBook reader ranging from the very inexpensive to the moderately priced Fire tablet.

If Dad likes to read, then a Kindle Fire makes perfect sense. Amazon offers a ton of books to read. If Dad subscribe to the Amazon Prime membership, he can borrow one book a month for free from their approved list of Prime books. If he gets the Kindle Fire, then he also gets a range of apps that let him play games, view movies and TV shows on either Netflix or the Amazon library (Prime members only).
The three best available options include:
Kindle Touch ($99) – instead of using the buttons navigate by touching the screen instead
Kindle Touch 3G ($149) – adds free lifetime 3G wireless so Dad can download books even if he's out of range of Wi-Fi
Kindle Fire ($199) – adds a color touch screen so he can watch movies, play games and use the thousands of apps from the Amazon App Store
It's possible to go with the lowest cost Kindle at only $79, but I don't recommend it. Get the Touch or Fire!
Amazon – Starting at $79.99 to $199.99
Beats By Dr. Dre Monster Solo Over-the-Ear Headphones
Bass thumping music at its best with these over-the-ear headphones.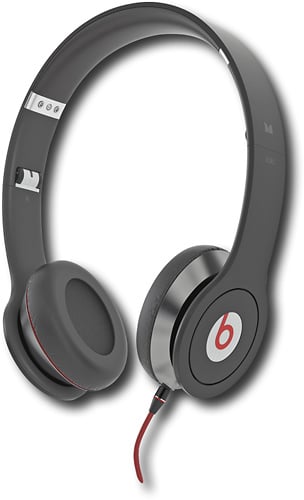 If Dad loves bass thumping music, get him these excellent headphones. They cost more, but people who love music love them. The headphones come in various sizes and cost, but this one hits the price sweet spot. If dad likes ear buds, save a little money and get a pair of those.
Motorola MOTOACTV GPS Fitness Watch
It tracks his fitness regiment and learns the songs that gets him prepped for a workout and then plays them.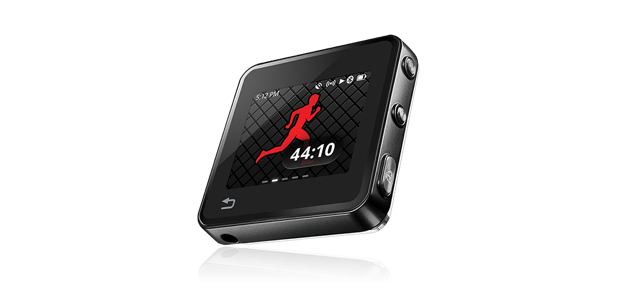 Anyone can get Dad a watch, but the MOTOACTV tells him more than the time. It plays MP3s and tracks his location via GPS. It also records things like heart rate and how far he's run. The device syncs online to keep track of his fitness. Dad can also track his golf game with the golf edition. Control it all with the color touch screen.
Amazon – 8GB Model starts at $204.99

As an Amazon Associate I earn from qualifying purchases.