February Black Ops 3 Double XP, Double Weapons XP Details
Get ready for a Double Double in Black Ops 3 with a February Double XP weekend that includes a Double Weapons XP bonus as well. The only thing you won't get is a Double Cryptokey weekend during the Valentine's Day weekend and through President's Day.
If you are looking for the last event, check out the final February Black Ops 3 Double XP weekend details.
With the new Double Double XP weekend Black Ops 3 players can level up faster and level up weapons faster — which will help with getting gold guns in Black Ops 3.
Over the Black Ops 3 Double XP weekend we saw some server issues on Xbox One and PS4, but the servers are more reliable on President's Day — the last full day of the event.
Read: Xbox One Awakening Black Ops 3 DLC Release Date Announced
The only thing this won't help you do is earn Cryptokeys faster to unlock the new Black Ops 3 weapons. This isn't a shock considering all the psychology Activision has in place to push you to buy Call of Duty Points.
Another complaint that surfaced with greater intensity over the weekend is that the Cryptokey earn rate is surprisingly low compared to earlier gameplay.
The new February Black Ops 3 Double XP weekend starts today, February 12th at 10 AM Pacific/1 PM Eastern and runs through President's Day all the way to February 16th at 10 AM PST/1PM EST.
Treyarch announced the new Double Double Black Ops 3 XP weekend right as Activision shared new details about the 2016 Call of Duty release.
The Valentine's Day Black Ops 3 Double XP weekend is available on PC, PS4 and Xbox One and works across all playlists — including with the new Awakening DLC on PS4.
With the new Black Ops 3 Double XP Weekend you can level up your player faster and level up your weapons faster than normal. The combination will allow you to earn unlock tokens quicker as you rank up your player and earn new weapons, specialists and scorestreaks.
The Black Ops 3 Double Weapons XP will help you level up your weapons quicker, unlocking attachments and optics as well as making it easier to beat camo challenges and helping you be a better player.
There are some interesting combinations that you can leverage from this event because leveling up a weapon will deliver XP towards your rank, which will help you rank up faster overall.
Treyarch changed around the power of weapons with the February Black Ops 3 update, so if you want to maximize your time you should check out this updated list of the best Black Ops 3 weapons.  This will help you identify new guns to level up and help you get an edge on the maps.
You can also use our Call of Duty: Black Ops 3 tips to rank up faster to really rise through the ranks today. This will help you learn what to look for and what you need to do to become a better player.
Use the full Call of Duty: Black Ops 3 guide below to find the tips you need to dominate your opponents.
Black Ops 3 Guide for PS4, Xbox One & PC
Black Ops 3 Tips to Level Up Faster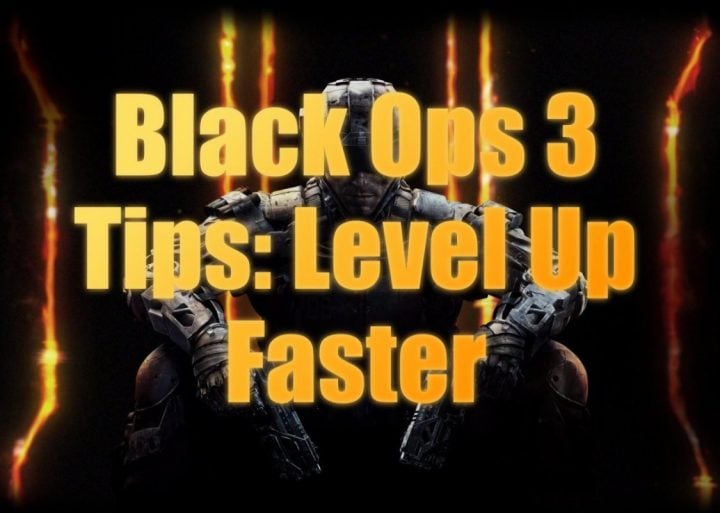 To have more fun in Black Ops 3 you need to level up to unlock new specialists, new weapons and new attachments. You rank up faster in Black Ops 3 by winning, playing the right game types and completing challenges. It also helps when you play on a Double XP weekend.
You should play the game modes that you like the most, but playing Kill Confirmed is one of the fastest ways to rank up fast in Black Ops 3. If you play on Hardcore you will also likely get more medals and more XP to level up faster.
In addition to leveling up your player, you can level up weapons by getting more kills with them. This will unlock attachments and new optics that improve the weapon stats.
You should check out the Black Ops 3 tips to level up faster to learn more about these modes and about how you can check challenges to earn more XP while you play.

As an Amazon Associate I earn from qualifying purchases.