FedEx Office Expands Cloud Printing Options
After having initially partnered with Google to allow FedEx Office customers to print documents directly from Google Drive cloud storage, FedEx Office is now expanding its cloud-based printing solution to support users of Dropbox and Box. Users can now print documents that are stored on the cloud online at over 1,800 FedEx locations nationwide.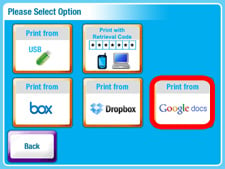 Users can print directly from copy machines inside FedEx Office locations through a web interface. On copiers, users will navigate to where their files are stored, whether it is on a USB drive or from one of the three mentioned cloud services, and then authenticate with their username and password and navigate to retrieve the appropriate file to print.
Inclusion of online services with printing will help to negate the need to be connected to a computer to find the file and print.
To learn more about how the service works, you can visit FedEx Office's support page.
Noticeably missing is Microsoft's cloud service through Skydrive. With more cloud-based integration with the next version of the Office suite, we're hoping that FedEx Office will include Skydrive and Office 360 support in the future.

As an Amazon Associate I earn from qualifying purchases.