Feedly Pro Is 20% Off for Black Friday
It's not uncommon to see paid web services host their own Black Friday sales, but we were pleasantly surprised to discover that Feedly is offering 20% off of Feedly Pro until December 2. This essentially knocks $10 off of the yearly regular price of $45, so you would only pay $35 for a year of Feedly Pro.
If you're not familiar with some of the exclusive features of Feedly Pro, the paid upgrade will get you the ability to search through your feeds to find a particular story, as well as seamless integration with Evernote and Pocket. You'll also be able to "get updates from small sites 30 minutes faster," as well as the ability to create custom URLs for sharing stories with others. Furthermore, you'll get "premium" customer service and the ability to vote on future features that may come to Feedly at some point.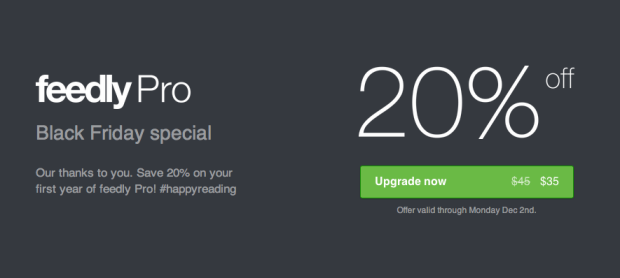 This is the first time that Feedly has put its premium service on sale, and while we've been hesitant about picking up a membership for $45 per year, $35 is a much better  deal in our minds, and we're guessing this might win over a lot of Feedly users this weekend.
Feedly has been the most-popular choice for users to switch to when Google Reader officially shut down over the summer. Many app developers have been working on their own RSS readers as well, including Digg and even AOL, but Feedly was already well-established before the Google Readers news rolled around, and it certainly took advantage of the shut down by bringing over heaps of Google Reader refugees.
Of course, Feedly is entirely web-based, so it has to be opened in a web browser. If you're of the desktop app kind-of-person, there are a ton of great apps that you can download that offer some great features, including Reeder for Mac and FeedDemon for Windows — both of which offer an extensive list of features for desktop RSS junkies.

As an Amazon Associate I earn from qualifying purchases.