Field2Base announces Forms2Base Lite and Pro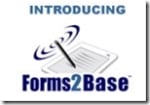 Field2Base.com has just announced Forms2Base Lite, Pro, and Enterprise, a Tablet PC form automation solution enabling paper-based forms to be converted to a digital format and filled out using a Tablet PC. Form automation solutions like Forms2Base are a must have for field force automation, sales force, and medical office environments.
Field2Base offers three versions of their Forms2Base product: Forms2Base Lite ( free ), Pro ( $499 ), and Enterprise. You can download the Lite (free!) version and the Forms Designer here, plus learn more about their Pro version here. If you are interested in the Pro version, Field2Base is offering a $100 discount through 12/31/2006.
We are working on an InkShow to demo how Forms2Base can be used in the business environement – stay tuned! Meanwhile, head over to Field2Base, watch the product demo, and download Forms2Base Lite and the Forms Designer now.
The following table summarizes the feature differences between the Lite and Pro versions.
Forms2Base Feature Comparison
Feature
Lite
Pro
Form Designer Module
X
X
Unlimited forms and unlimited form region
X
Text, pen, calculation, numeric regions
X
X
Barcode, drop down lists, camera regions
X
Mirror, label, and serial regions
X
Signature capture regions
X
X
Digital photography embedded in forms
X
Preset or user selected form recipients
X
X
Ability to publish forms to field tablets
X
X
Completed forms delivery as image file
X
X
Completed forms delivery as XML data
X
X
Smart fill form completion tools
X
Form prefill from home office
X
Online help & tutorials
X
X
Email support
X

As an Amazon Associate I earn from qualifying purchases.