Fieldrunners 2 Comes to iPhone Tomorrow for $2.99
Fieldrunners, the popular tower defense game for iOS and Android is finally getting a sequel tomorrow on iPhone.
The new Fieldrunners 2 launches on iPhone tonight. Like the first game, Fieldrunners 2 will come to iPhone first, and will come to iPad and Android at a later date. There's no estimate on those times, however. The game is currently available in the New Zealand App Store, and should arrive in the U.S. App Store around 11 p.m.
Subatomic Studios claims the new tower defense game will have hours of gameplay packed into the $2.99 app. The game features the same maze-building as the first title, but with more than 20 new maps, and new units. The new units include new elite enemy types that are more difficult than the average enemies, and new weapons including one that launches bee hives.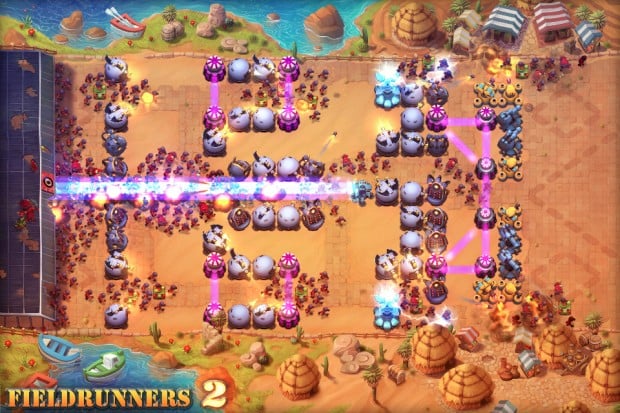 The new maps include hybrid level that combine fixed paths with the open terrain that makes players create their own mazes. Some levels include multiple layers of bridges and tunnels that bring the soldiers above and below the battlefield.
The new game also includes a Sudden Death mode where players can go up against endless streams of enemies until they lose. There's also new puzzle maps that will require an understanding of just how every enemy behaves.
After several years the new Fieldrunners sounds like a great improvement over the first game and hopefully Subatomic is able to get the game out to owners of the iPad and the various Android devices sooner rather than later.

As an Amazon Associate I earn from qualifying purchases.