Fieldrunners 2 HD for iPad Now Available: Loads of Fun
I loved Fieldrunners, the original tower defense game for the iPad, so when they released version 2 for the iPhone I couldn't wait for it to show on my iPad. This week it did and the game really adds some visually beautiful screens. Gamers also get more levels to try with interesting new screens to play and fun new guns to kill of those pesky little dudes attacking you. They also added fun new ways to kill the enemies trying to attack your "tower".
Upon opening the new version of Fieldrunners 2 HD, users will see how more great it looks. They updated the app to take advantage of the new iPad's retina display so it looks amazingly good.
I like the new boards with interesting ways to defend against the enemy. The trenches track them along a specific path instead of letting the user create their own maze using the guns. This makes the game visually more interesting but also a bigger challenge.
The iPad version and the iPhone are separate meaning they're not universal apps that install on both. Games will need to buy both separately to use them on each machine. However, the new iCloud integration lets a user start on the iPad and then finish it on the iPhone.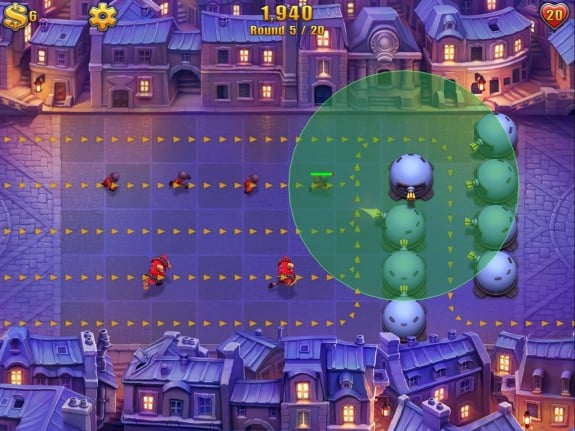 I like that the game shows users the potential paths of the enemy, as seen above. The extra graphics that give each screen some interesting flavor look beautiful.
The new trenches guide the enemies along the path. This tells the user where to put their guns to combat the bad guys. At first it makes the rounds easier, but after a while they become more challenging.
Players can kill the enemy using some new defenses earned based on game play. Like so many games today, players can buy more money or earn it through the game. One new tool to defend the tower includes a mine that when purchased will get the player out of trouble. As all the guys attacking get close to their goal, hit the mine and it blows them up keeping the user safe.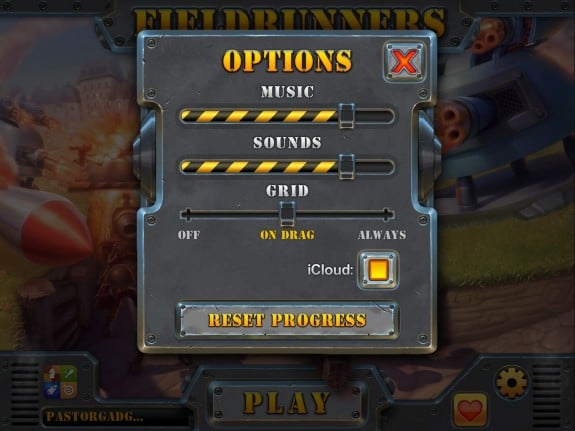 I love this game. It costs $7.99 is a bit pricy, but for a quality game its worth it. Get it now in the Apple iTunes App Store. Some reviewers report that it crashes a lot. I didn't experience that, however the makers promise a fix will ship soon. They also promise faster load times, something I did struggle with as new levels take a long time to load.