FIFA Release: 7 Things to Know
The new FIFA release is coming faster than a strike on goal and if you want to play FIFA 15 on day one here are some things you should know. Here are seven things you can expect from EA Sports on the new FIFA release day.
We already know the FIFA 15 release date is September 23rd in the U.S. and September 26th in other countries like the UK. Although there was a special World Cup version released earlier this year there is no change to the name of the new FIFA release so you'll be looking or FIFA 15 on store shelves.
Leo Messi and Eden Hazard are on the cover in the UK while Clint Dempsey and Messi are on the cover in the U.S. Dempsey may be familiar to many as a key player on the U.S. Mens National Team from the World Cup earlier this year. On the Xbox FIFA 15 release he sports a Xbox jersey from the Seattle Sounders, but on the PS4 FIFA 15 release he wears the USA National Team jersey.
Here's a closer look at what you need to know about the FIFA release date for 2014, so that you are ready to buy FIFA 15 as soon as it hits store shelves.
FIFA 15 & FIFA 15 Ultimate Edition
On the new FIFA release date you'll need to choose between a standard edition of FIFA 15 and the FIFA 15 Ultimate Edition that is $10 more.
You'll be able to choose these options on the new FIFA release date, but the Ultimate Edition is not available on some older platforms.
Buy FIFA 15 on Amazon in Standard and Ultimate Editions.
You can buy FIFA 15 on Xbox One, PS4 and PC with all of the new features as well as on Xbox 360, PS3 and Wii and on handhelds like the Nintendo 3DS and PlayStation Vita. There is no Wii U FIFA 15 release and you won't get all of the features on the older consoles and handhelds which are branded as Legacy offerings.
If you choose to buy the FIFA 15 Ultimate Edition you'll get a lot o extras for playing FIFA Ultimate Team including;
40 Gold Packs
Adidas All Star Team
Adidas Predator Boot Collection
Celebrations
And more
If you are into Ultimate Team this is a great option as it delivers a lot of value compared to buying FIFA Ultimate Team packs in the game.
FIFA 15 Demo
EA Support pages specifically talk about a FIFA 15 demo and we expect it will arrive about two weeks before the new FIFA release date.
All EA offers at this time is that they will make an announcement and that they promise for PS4, Xbox One and PC. There's a chance the PS3 and Xbox 360 FIFA 15 demo will also arrive.
It's possible that the FIFA 15 demo release date is planned for September 9th, two weeks before the FIFA release.
Midnight FIFA 15 Release Details Lacking
A month ahead of the FIFA release we are not seeing any details on a midnight FIFA 15 release date opening at Best Buy or GameStop.
GameStop normally does not announce these until closer to the release, but Best Buy typically lists any midnight opening on the game page well ahead of the release.
For comparison we knew that Best Buy planned a midnight Madden release a month ahead of time.
FIFA 15 Deals and FIFA 14 Trade In
There is already a great FIFA 15 deal that saves $25 off the price of the new FIFA release and you can get the game on the release date as well.
You'll score the game for $35 but the discount is a coupon towards another purchase. When you buy the game at Dell you get the gift certificate 10-20 days after your order ships and you can use it on another game after that.
This week you can get a great FIFA 14 trade in value at Best Buy thanks to a 50% bonus that pushes the price to $31.50 on PS4 and Xbox One.
Incredible New FIFA Features for PS4 & Xbox One
EA put most of the attention into the new FIFA release on PS4, Xbox One and PC. If you buy it on an older console you won't get all of the same features and players may not deliver smart performances like on these platforms. The FIA 15 videos below show you what the game looks like and highlight the new FIFA 15 features.
Emotional Intelligence – Players show more emotion on the field when they score, miss a tackle or shoot wide.
Dynamic Presentation – Better commentary, fan reactions and 10 man goal celebrations
Next Gen GoalKeeper – New animations, smarter keepers and last second saves.
Team Tactics – Finally your rem mates will adjust their tactics based on what's happening and play better.
Graphics – better looking player models including incredibly realistic faces.
Living Pitch – Look for areas to wear down during a match and pieces to be torn up.
Player Control – Better touches, cuts and moves for your player controlled FIFA star.
Man on Man contacts, Better dribbling and much more.
Many of these features are only available on the new consoles and on PC, so it's a good idea to look at upgrading if you want the best FIFA experience.
Play FIFA Early on Xbox One
If the FIFA 15 demo doesn't do it for you, the Xbox One allows gamers to play FIFA 15 up to five days ahead of the public FIFA release.
Read: How to Play FIFA 15 Early
You'll need an EA Access subscription that is $5 a month or $30 a year. With this you get early access to EA games and 10% off DLC and digital games.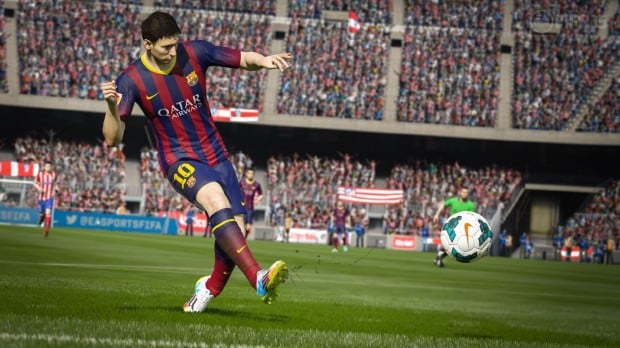 EA will announce the exact date, but expect to be able to play FIFA 15 starting on Thursday or Friday September 21 and 22. You'll be able to play at least two hours of game time, but it could be six hours like the Madden 15 version.
Digital FIFA 15 Release Details
Gamers that prefer to buy games digitally for the ease of playing right away and without switching discs should see a digital FIFA 15 release on Xbox One and PS4. There are no listings for the FIFA 15 digital release on PS4 or Xbox One yet, but that isn't a shock.
Expect to see more details go live in mid-September and if EA follows the Madden playbook you won't find a digital FIFA 15 Ultimate Edition offered. You can check out 3 reasons to skip the digital Madden 15 release, which may apply to FIFA this year as well.