FiftyThree Debuts New Stylus: The Pencil
There's that old saying "if you want something done right do it yourself." Well, it looks like developers for Digital Ink Apps are taking that to heart lately. Several have started creating and marketing Inking tools of their own. FiftyThree, the company that created the award winning App, Paper, has now released a new stylus called simply, The Pencil. Pencil is another BlueTooth LE connected stylus with a little twist. Instead of flipping switches and holding down buttons for a successful pairing, apparently all you need to do to connect up is press down on an on-screen paring button in the App and you're off and Inking. FiftyThree has trademarked the process and given it a name with some romantic flare, "Kiss to Pair." The Pencil doesn't have a power switch. It's always ready to for kissing and pairing. I've known some individuals like that in my time.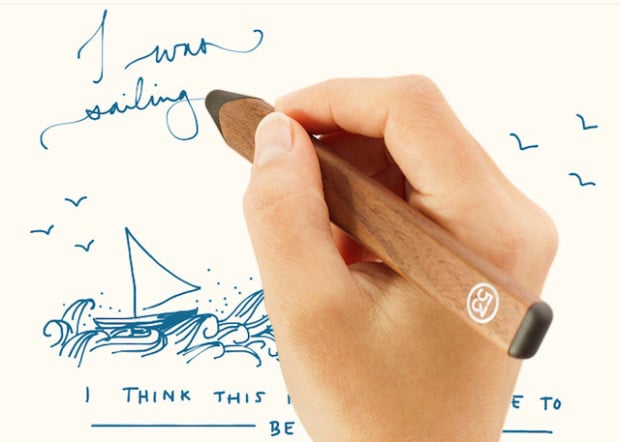 The promise is that the Pencil can go about one month before it needs a charge. From what I'm reading (I have a unit on order and will post a review when it arrives) there's an inner battery compartment that slides out and then is plugged into a USB port. Sounds fancy. Check out the website for a nice rendering on how this is supposed to work. The Pencil has an eraser that doesn't require any switching of tools within the App to use. Turn the pen over and erase is how the story goes.
Again from descriptions it sounds like you'll want to stay juiced up as the Palm Rejection technology requires the Pencil to be on to use. There's also another feature called Blend that allows you to use your fingers to blend a drawing in much the same way you would do if you were working in charcoal. Palm Rejection and the Blend feature work only with the Paper App, but the stylus can still be used with other applications, just without those features. That would seem to limit the market in my view and there's no mention of an SDK for other developers to tap into.
The design of the Pencil is said to be inspired by a carpenter pencil and the renderings certainly reflect that. There are two models at two different price points available for order: Walnut and Graphite.
The Walnut model contains magnets that allow you to attach the stylus to your iPad Cover or any other surface and is finished with sustainable wood. It costs $59. 95. The Graphite version doesn't have the magnetic strip and costs $49.95. Both are listed as introductory prices. The purchase price includes the addition of a range of digital brushes and tips normally sold as an in App purchase for $1.99 a piece or as a bundle at $6.99. You also receive an extra tip and eraser.
As I mentioned earlier, I placed an order this morning for the Walnut version and report my findings when it arrives.

As an Amazon Associate I earn from qualifying purchases.