File Your Taxes From Your iPhone or Android with SnapTax
Filing taxes is a pain, but if you have a smartphone you'll appreciate the ability to file your federal and state tax returns from your iPhone or Android.
The new SnapTax app for iPhone and Android is made by the tax masters at TurboTax so you know you're getting a tax app that isn't cutting corners.
How do I enter the W-2 info into the iPhone or Android you ask? Easy. You take a picture of your W-2 with your smartphone camera and the app is able to pull off your information and begin the tax filing process.
You can try this out by downloading the app for free and taking a photo of your W-2. You can go through the entire tax prep process for free, only paying when you reach the end and want to e-file your taxes.
SnapTax Demo: File Your Taxes From Your Phone
https://youtu.be/M-VyLXLAipg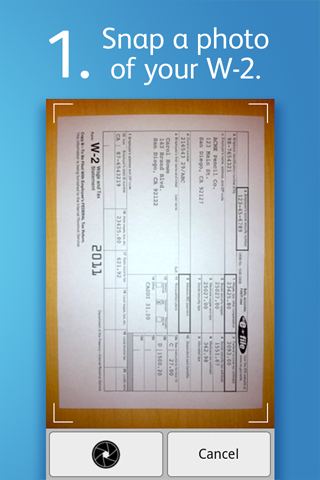 The SnapTax app is designed with the 1040EZ filer in mind, so if you have complex taxes this won't be the solution for your. if you meet the following criteria, you should be able to use SnapTax to file your 2011 taxes.
Don't have children or dependents
Don't own a home or real estate
Have income only from a W-2, interest, or unemployment
Have income of $100,000 or less ($120,000 if married)
Filing your state and federal taxes with SnapTax costs $19.99 — $8 less than using the free tool from TurboTax and nearly $50 less than the TurboTax Deluxe edition for the web, making this a great deal for most tax filers.
If you are due a refund, you can enter your information for a direct deposit and you'll be ready to get your tax refund fast.
The entier process is completed on your smartphone, and TurboTax keeps things secure, just like they do on your computer.
Get TurboTax SnapTax for iPhone and Android.