Final LG G3 Release Date Emerges for US Buyers
Back in May the all-new LG G3 was finally announced after months of rumors and speculation, but release date details were not a part of the launch. Unlike the HTC One M8 that went up for sale the day it was announced, prospective buyers have waited over a month for LG G3 release date details, and today the last major US carrier confirmed its plans.
After over a month of waiting and plenty of rumors last week the details finally started to emerge. T-Mobile was first to an announcement, confirming the LG G3 release date would be July 16th, and eventually all other carriers followed with additional details.
Read: LG G3 vs Galaxy Note 4: Early Look at the Competition
However, Verizon was the only carrier yet to announce LG G3 release date details, pricing, or availability, but last night they finally shared all the information. We now have full launch date details for all four major carriers in the United States that have announced they'll be offering the new LG G3. Below is everything we know about the LG G3 release date throughout the US.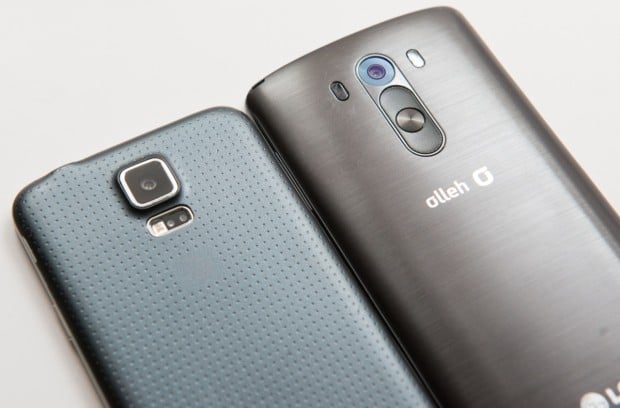 With the Samsung Galaxy S5 and HTC One M8 both readily available, consumers have been looking forward to what else was on the horizon this summer. One of many new and impressions smartphones is the new G3, and it's finally available starting today from AT&T, then will hit all other US carriers by the end of next week.
The flagship LG G3 launched in Korea the day it was announced, and eventually arrived for the UK and certain parts of the globe on June 27th, but buyers in the US were completely left in the dark regarding a release date for nearly another week. It wasn't until the 7th that AT&T confirmed its release plans, and today we've finally heard from Verizon.
The Verizon LG G3 release date is officially July 17th as confirmed right on the company's own launch page. Interestingly enough Verizon is also undercutting all other carriers with the price too. Unlike AT&T and others asking $199 with a new 2-year contract, the Verizon LG G3 is only $99 for those signing a new 2-year contract. Then of course Verizon Edge gets you the G3 for monthly payments of $29.99 on top of your monthly carrier usage bill.
The first LG G3 release date details were leaked in early June suggesting the G3 would hit Verizon on the 17th, which turned out to be deadly accurate. However that was the only details prospective buyers received over the past month until carriers confirmed all the details themselves.
Starting today the LG G3 is available online and in stores from AT&T, and next up with be T-Mobile on July 16th as mentioned above. Confirmed this morning the Verizon LG G3 will be released (at least online) on July 17th, and the last major US carrier is Sprint, who announced July 18th is the official G3 launch date for them. Meaning by the end of next week the LG G3 will be readily available throughout the country.
Read: LG G3 Review: One of the Best Androids Around
So what makes the LG G3 so impressive? It's powered by Android 4.4 KitKat, and has a brand new 5.5-inch 2560 x 1440 quad-hd resolution display, or a 2k screen. Under that is a 2.5 GHz quad-core processor with 3GB of RAM and 32GB of internal storage (from Verizon for $99) and some carriers only have a model with 2GB of RAM and 16GB of storage, so check before you jump to a new carrier.
The LG G3 has a micro-SD slot for user expandable storage, and a first of its kind camera with 13 megapixels, optical image stabilization, and an all-new laser auto-focus. A feature usually reserved for high end DSLR cameras used by professionals. Finally, the G3 has a large 3,000 mAh battery (bigger than the Galaxy S5) for all-day usage.
Verizon is offering both a black and white LG G3 starting on the 17th, and other carriers will surely be following that trend in the coming days or weeks. Stay tuned for more launch details, information, and G3 how tos coming soon.

This article may contain affiliate links. Click here for more details.