Finally – you can now search the web using your Tablet PC and Ink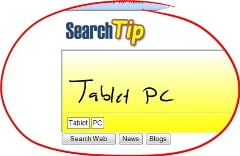 Loren Heiny, the great Tablet PC developer that he is, has some great news for Tablet PC users who want to search the web using Ink and not having to use the TIP. You can now search Google News, Web, and Blog using his new SearchTip!.
I'll let Loren give you the good news and which URL you need to use when:
If you have .NET 2.0 on your Tablet PC you can try the SearchTIP by clicking here. (You may need to change your Internet Options to allow ActiveX controls, but you should not need to set the site as a Trusted Site anymore–that was fixed by going to .NET 2.0.) Actually, I haven't had much luck with the search TIP when running IE 6. All seems to be OK within IE 7 running in Vista or using the lastest IE 7 for Windows XP. (I did notice a bug if you drag the IE 7 window around and then try to write. Seems like the move window message isn't being propogated to the control. Not sure why.) Let me know if it works for you in IE 6.
Now I realize most everyone out there doesn't have the .NET Framework 2.0, so I've temporarily put a 1.1 version of the SearchTIP up on TabletPCPost. What? I said the code wasn't working in 1.1? That's right. This code wasn't working when it was on the TabletPCBlogs server, but it seems to be working just fine on TabletPCPost. You will have to add TabletPCPost.com as a trusted site, however within Internet Explorer (Select Tools | Internet Options | Settings | Trusted Sites and then add TabletPCBlogs.com). I haven't figured out how to get around this yet.
Way to go, Loren! I've added SearchTIP as a Quick Link setting on my IE 7 toolbar.

As an Amazon Associate I earn from qualifying purchases.