Find My Friends App Available Now in App Store
The new Find My Friends app that Apple shared at their iOS 5 and iPhone 4S press event last week showed up in the App Store today. You can get it for your iPhone or iPad only if you have iOS 5 installed, which releases today.
For the app to work, all of your friends or family you want to interact with through the app must have it on their iPhone or iPad with iOS 5. They will mark their place in the app using location-based services. When you launch the app, you will see their location on the map so you can meet up, or just know how far away they are if you are waiting on them at a coffee shop or your house.
Find My Friends works in conjunction with your Contacts and Maps. It will let you add friends in your Contacts and find them with the Maps apps so you can get directions to their location.
This can be useful for families who want to keep track of one another. The parents can ask the child to mark their location so they can find them or vice versa. Parental restrictions built into iOS let you control whether your child can turn the feature on or off requiring a password to make changes.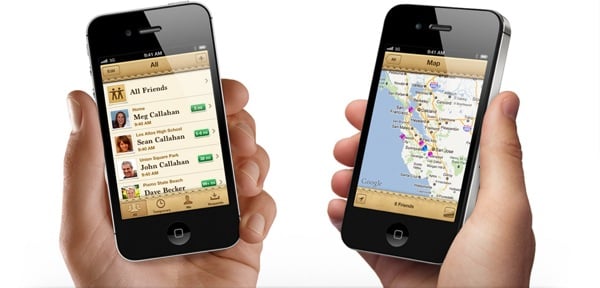 You might be concerned that someone can always find you. You can set it up so that the app only temporarily locates you for a short time, like hours or a few days. You can also turn off the feature if you want to be "off the grid" for a little while.
I tried to add it to my iPad running iOS 4 and got an error message, so it will only work on iOS 5. If you don't want to upgrade, then you can try something like Glympse which has the same features but works on any version of iOS.
via Apple