Finsix Dart Laptop Charger Review: Tiny and Powerful
Laptop charging bricks mostly stink, but the Finsix Dart laptop charger proves they don't have to. Billed as "The world's smallest laptop charger" the Finsix Dart replaces the mammoth brick that came from your laptop manufacturer and adds functionality.
Apple and Microsoft ship the best known computer charging bricks. You might find a few others, but not many. The Apple brick comes in white and includes a nice cord management system and a magnetic connector. It's also modular so you can remove the AC plug and put on International plugs or even replace it with the Twelvesouth Plugbug which adds a USB port to the charger. The Surface Pro charger also adds a USB port making it great for road warriors who want to charge a phone and their Surface Pro. Why can't manufacturers do a better job of designing their charging bricks? Until similar options are available from Apple or Microsoft, check out the Dart.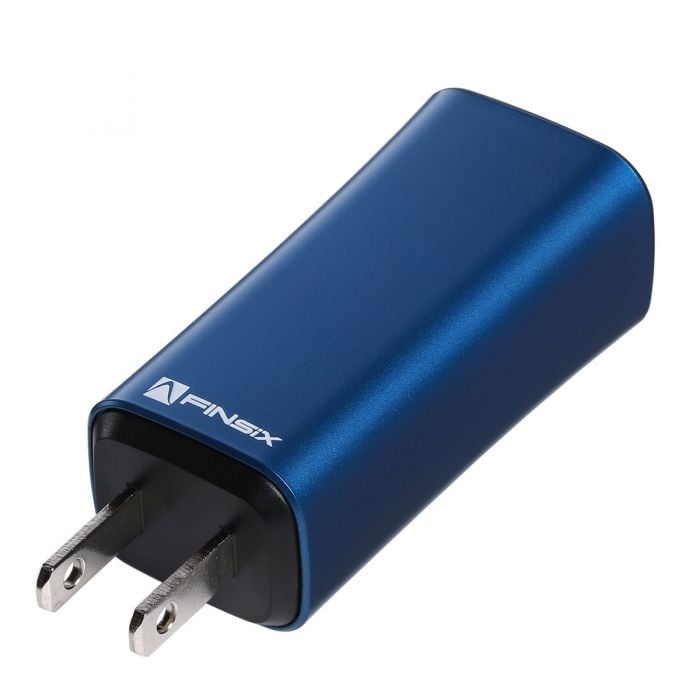 The Finsix Dart: Small but Powerful
Finsix makes a nice replacement laptop charger. The Dark comes in a small rectangular brick about a quarter the size of the average charger. It's less than 3 inches long and a little over one inch wide near the AC prongs. It's slightly wider at the other end where the cable comes out. It only weighs about 3 ounces and will easily fit in even the smallest and most cramped computer bag.
The thin cable coming out of the top of the Finsix Dart charger has a USB port a few inches from the top of the charger. It handles 2.1A of power to charge most smartphones and slowly charge a large tablet. It will easily charge smaller less powerful accessories like a mobile wireless mouse.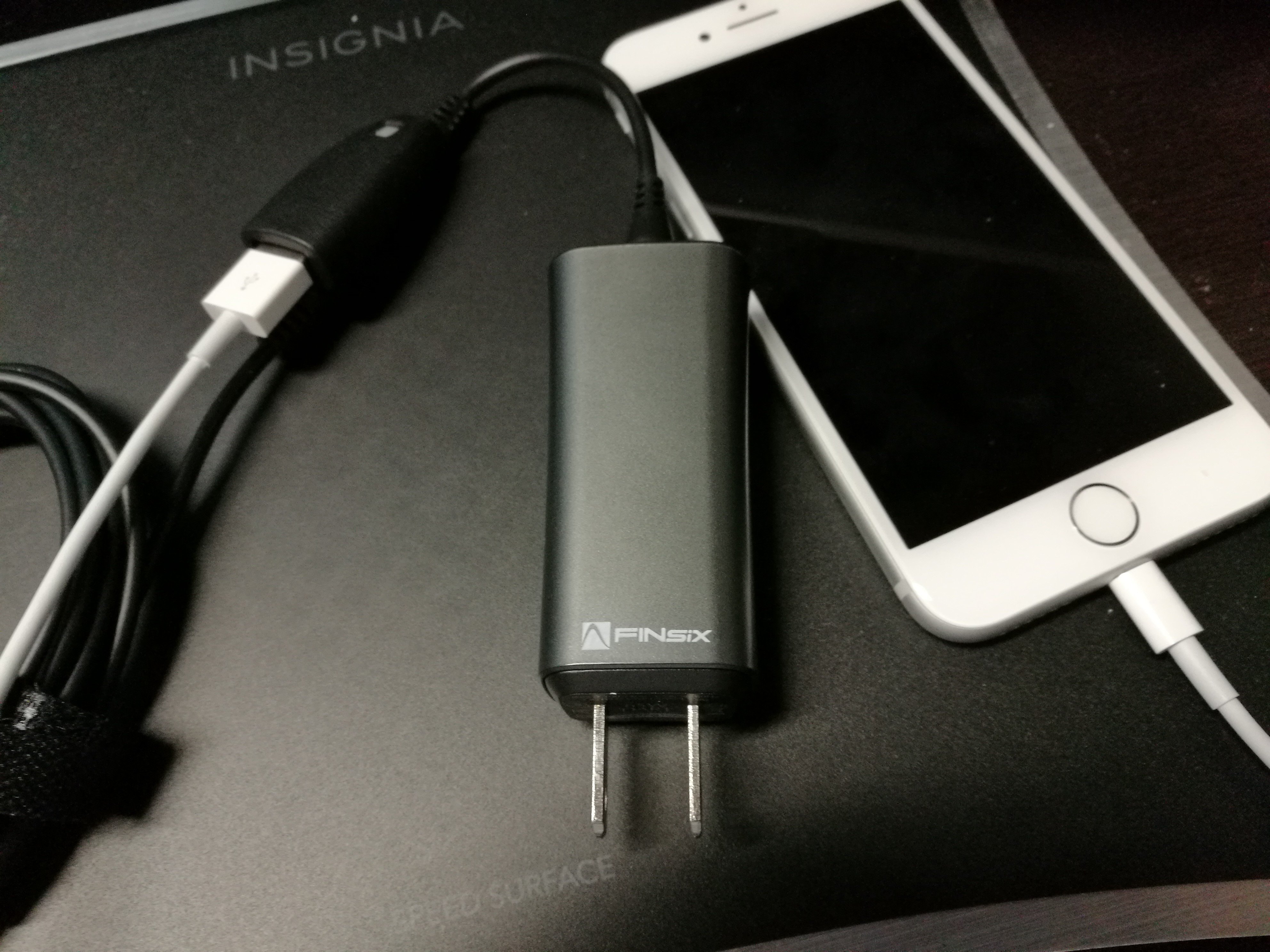 The Finsix Dart will charge most laptops that need a 65W charger. If you own a smaller computer, like a 11-14-inch laptop, it will probably work. I have a 15.6-inch Acer Chromebook 15 and it charges my computer without a problem. I plugged it in overnight and woke up to a full battery. While using the computer, it kept the battery topped off, slowly charged the computer with the large display lit at about 75-80 percent and also charged my phone.
The Dart was the winner of our Best Overall Accessory of 2014 CES award.
The Finsix Dart: Design and Durability
The value in the Finsix Dart laptop charger comes from its compact size and the USB port. However, to make it work with a lot of different brands of machine, it uses a modular tip system. Anyone who's ever used a typical universal laptop charger replacement will recognize the tip system.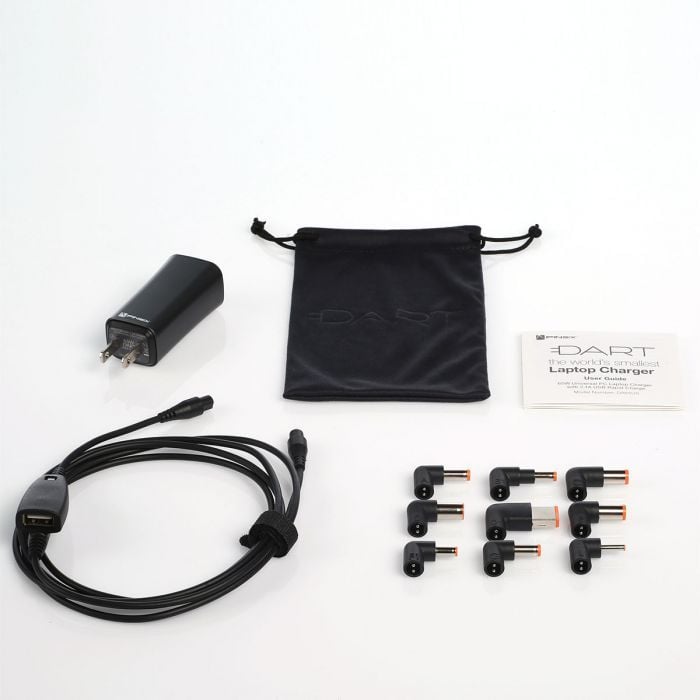 The package includes tips that fit most common laptop brands including tips for …
Acer
Advent
Asus
Dell
Fujitsu
Gateway
HP/Compaq
IBM/Lenovo/NEC
LG
MSI
Packard Bell
Panasonic
Samsung
Sony
Sharp
Toshiba
Notice you don't see Apple or Microsoft on the list. They don't make MacBook tips or a tip for the Surface Pro. Also, if you don't see your manufacturer listed, contact the company and they may offer one that fits. If they get enough requests for a specific manufacturer's tip, they might design one to work with that build.
Connect the tip that fits your system to the end of the 6-foot cable. The other end of the cable plugs into the charger. Plug the Finsix Dart into an AC port and the tip into the laptop's charging port and it should light up and start charging the system. As mentioned above, on larger systems like my Acer Chromebook 15, it may charge a little slower than the manufacturer's brick included with the laptop. It's not a big difference.
The Dart comes with a nice drawstring carrying bag for the extra tips and the charger itself. Finsix sells the Finsix Dart in five different colors – Gun-metal black, Blue, Magenta, Orange and Silver.
My Acer tip bent overnight. I plugged it in and placed it next to my bed at night. When I picked it up a couple of days later I noticed the charging light on the laptop wasn't lit. I opened up the computer and it was almost dead, despite being plugged in for a couple of days. The metal part of the tip looked bent and lose. It even came off without much movement.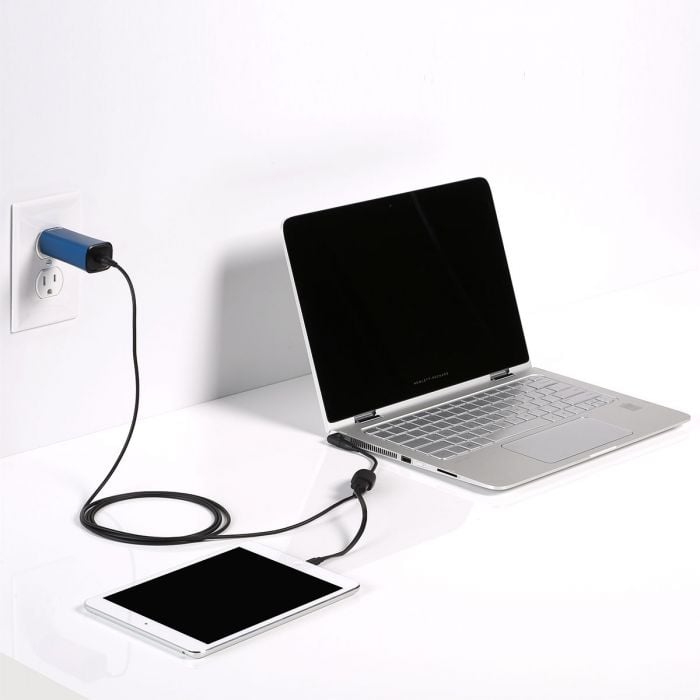 I'm pretty sure I must have accidentally stepped on the cable and put too much pressure on the tip. Fortunately, the User Guide for the Dart promises a to send you a tip if you get a new laptop, so I figured they'd also replace a broken one. I filled out a support ticket and they sent me a new one within a few days. They're a small upstart, so I didn't hear from them for two days. However, the tip came less than a week after I requested it. The company hopes to do better soon with their support response. If you need an immediate fix, then look elsewhere.
Recommendation
At $99.99 direct from Finsix, the Finsix Dart costs two or three times more than one of the most popular laptop charger replacements. If you need a replacement because you lost yours or it broke it and you don't care about the design or functionality, then you probably should look at the multiple options available on Amazon for less than $40. However, consider the Finsix Dart for a well-designed laptop charger that takes up less space in a computer bag than most. The added USB port makes it more versatile than most of the laptop chargers on the market. Sometimes design and function are worth more, but two or three times more? You'll have to decide. If price is less important to you, then the Finsix Dark universal laptop charger is a good option that works nicely.

As an Amazon Associate I earn from qualifying purchases.