Fire Inspectors in Lee County using Tablet PCs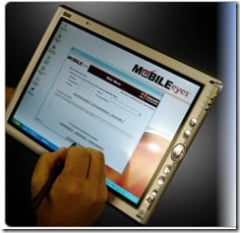 Fire inspectors in Lee County, North Carolina are using Tablet PCs to inspect schools. They are using software from TradeMaster, called Mobile Eyes. TradeMaster also provides software to the manufacturing industry to simplify the management of equipment, enable paperless data collection, and the reporting of ISO, OSHA, and inspection data.
Who can tell me the OEM and model of the tablet pc to the right?
From TradeMasters press release:
According to Fire Marshal Derrick Clouston of Lee County, North Carolina, his inspection team has already experienced numerous benefits using MobileEyesâ"¢ fire inspection software that was installed only weeks ago.
The software, provided by TradeMaster, Inc., runs on a tablet PC and includes handwriting recognition capabilities that make note-taking as easy as writing on a yellow pad.
"We performed nine school inspections, including two high schools, within a two week period," said Clouston. He and two part-time staff are responsible for doing all the building and fire inspections in Lee County, which covers 225 square miles and is one of the most highly industrialized counties in North Carolina.
"Many of these industries are constantly updating and renovating their facilities," added Clouston. "Fortunately, the MobileEyesâ"¢ software is adaptable to all types of occupancies including commercial, residential, industrial and municipal."
North Carolina law requires that public schools be inspected twice a year. Clouston noted that during their recent school inspections, officials were very impressed with the technology, and that it was "all right there."

As an Amazon Associate I earn from qualifying purchases.