Fire TV Stick Pre-Orders Begin at Staples
Amazon's new Fire TV Stick was announced earlier this week and put on pre-order on Amazon's website, but shipping dates quickly slipped as more and more buyers took advantage of the limited-time $19 price. However, Staples just put the Fire TV Stick up for pre-order on its own website.
On Amazon's website, the new streaming device is already back-ordered into January, which means if you decide to buy one for your loved one for the holidays, you'll sadly miss out. However, Staples now has the Fire TV Stick up for pre-order.
This is great news for those who missed out on the device when it first went up for pre-order on Amazon's website, as they can now pre-order on Staples' website and hopefully get it right on release day, which will be November 19.
The Fire TV Stick looks to take on Google's Chromecast, and just like the Chromecast, the Fire TV Stick plugs into an HDMI port on your television, but it comes packing with faster performance than the Chromecast, boasting 4x the storage and 2x the memory as the Chromecast. Plus, the Fire TV Stick sports a dual-core processor, which should hopefully make browsing and navigating menus smooth and snappy.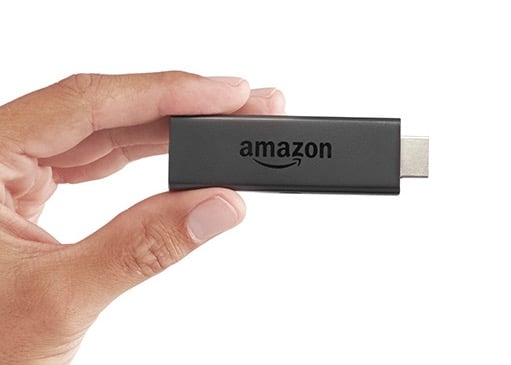 However, where the Fire TV Stick really shines is the included remote that comes in the box. The Chromecast doesn't come with a remote, but rather users use their smartphones as the remote, which many users actually don't like over using an actual remote with physical buttons.
The Fire TV Stick, on the other hand, comes with a remote that allows you to easily navigate and find your favorite movies and TV shows without any hindrance of a mobile remote app. However, Amazon will provide a remote app for the Fire TV Stick anyway if users prefer that, so you essentially get the best of both worlds.
One feature that makes the Fire TV really useful is the voice search that has users speak into the microphone on the remote so that they don't have to type in what they're searching for. That same capability comes to the Fire TV Stick as well, but only in the form of a $29 add-on for the Voice Remote that gives you this functionality. However, you can access voice search capabilities with the free remote app.
As with any other streaming device, the Fire TV Stick provides access to all of the popular streaming services like Netflix, Hulu Plus, WatchESPN, NBA Game Time, Twitch, SHOWTIME ANYTIME, Spotify, Pandora, Vevo, Plex, A&E, PBS, PBS KIDS, WATCH Disney Channel, YouTube.com, and of course Amazon's own Prime Instant Video and Prime Music.
Amazon says that the number of services available on its Fire TV has tripled since the device's launch.
We checked out the Fire TV earlier this year when it released and it turned out to be a promising device with a lot of potential, and the Fire TV Stick should be able to carry that on.
The Amazon Fire TV takes its name from the popular Amazon Kindle Fire tablet lineup, which runs on top of Android with a special interface built by Amazon. The device puts Amazon's services and their store front and center, with a Kindle Fire-esque user interface that translate well on televisions.
Perhaps what's most impressive with the Fire TV Stick is its price. You could've bought the device for as low as $19, making it the cheapest streaming option we've seen yet. In order to take advantage of this price, though, you had to be an Amazon Prime member and ordered the Fire TV Stick within the first two days of pre-sale. Now, the streaming device is priced at $39, which is still quite reasonable.