FireFox 2.0 and Tablet PC goodies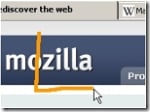 With the release of FireFox 2.0, it is a good time to point to the Tablet PC friendly extention goodness out there.
I'm using both browsers, but FireFox is currently set as my default
If you use FireFox 2.0 and a Tablet PC, there are several exentions that should be on your short list:
Anybody else got some good Tablet PC / Pen friendly FireFox 2.0 extentions? I'm particularly looking for some that ink-enable Thunderbird, FireFox's email client.

As an Amazon Associate I earn from qualifying purchases.