First 6 Samsung Galaxy S6 Edge Accessories You Should Buy
Did you just get the new Samsung Galaxy S6 Edge? If so, then consider getting these awesome accessories. We list the first six kinds of accessories most Samsung Galaxy S6 Edge owners will want to eventually invest in to get the most out of their phone.
No one needs everything on this list. Grab one accessory from the six categories below. They're our favorite Samsung Galaxy S6 Edge accessories.
Samsung Galaxy S6 Edge Cases
The Samsung Galaxy S6 Edge looks awesome. Samsung did a great job of designing an attractive handset, which says something about how far they've come compared to the ugly plastic design decisions made in earlier generations. The two curved glass screen edges look cool and that entices those who appreciate the look to use it uncovered. However, the fear of dropping a phone will convince even design aficionados to protect their Samsung Galaxy S6 Edge with a good shock absorbing case.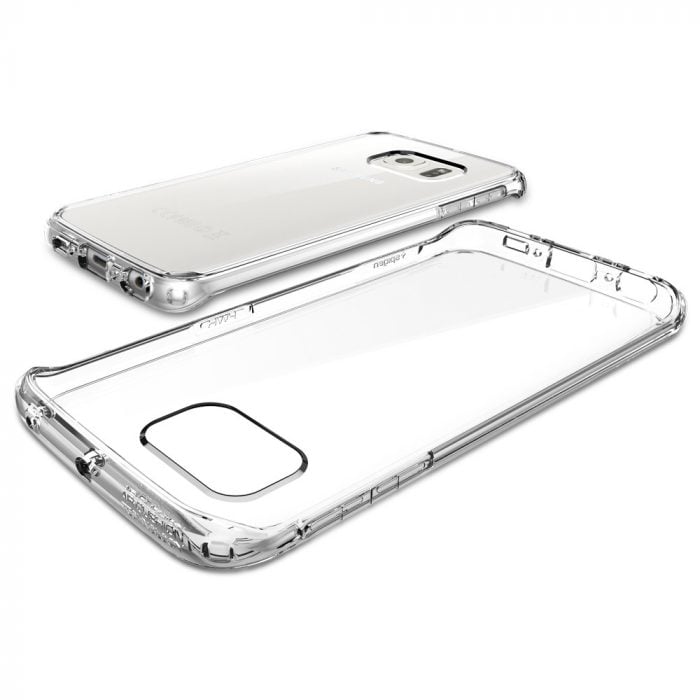 The first case on the list protects the phone while still showing off the cool look of the S6 Edge. The Spigen Ultra Hybrid Samsung Galaxy S6 Edge case ($24.95) costs very little. Buy it from [amazon_link id="B00QU4PN84″ target="_blank" ]on Amazon for only $12[/amazon_link]. S6 Edge owners can grip the phone because it's made of  TPU (a kind of rubber) and hugs the phone as it protects it from ordinary wear. The Spigen Ultra Hybrid Samsung Galaxy S6 Edge case won't protect the phone in most extreme environments, however.
For more rugged protection check out the Otterbox Symmetry Series case for the Samsung Galaxy S6 Edge. The [amazon_link id="B00TYTDO8S" target="_blank" ]OtterBox Symmetry Series[/amazon_link] sells for about $40 on Amazon. It will hold up to more punishment, but adds bulk to the phone.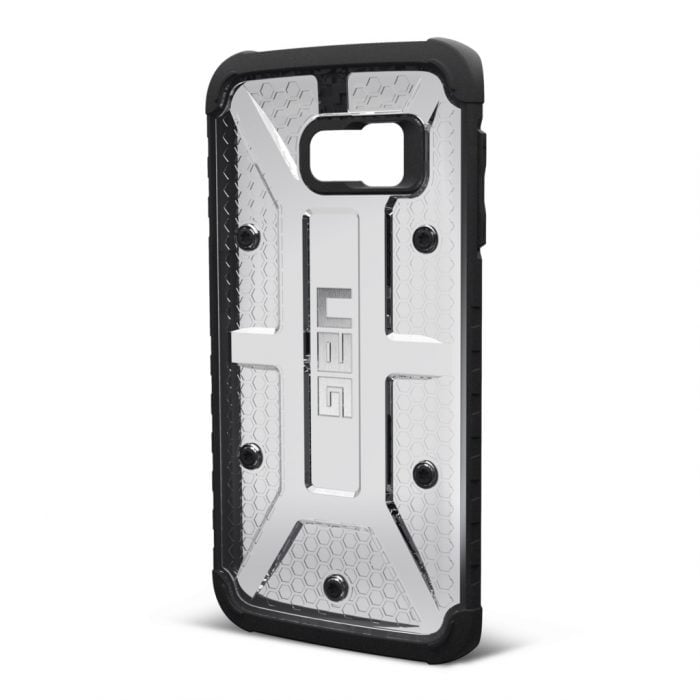 For a happy medium, try the Urban Armor Gear Edge case for the Samsung Galaxy S6 Edge for $35. It's on Amazon [amazon_link id="B00TRG8KGY" target="_blank" ]for about $24[/amazon_link]. It's not as rugged as the Otterbox, but gives more protection than the Spigen. The edges will protect the rounded glass edges of the Samsung Galaxy S6 Edge with raised ridges around the screen. The case also looks pretty cool.
For more cool cases, look at 9 exciting Samsung Galaxy S6 cases posted earlier. Most of those cases will also come in S6 Edge versions too.
Charging Gear for the Samsung Galaxy S6 Edge
The battery life on the Samsung Galaxy S6 Edge isn't great for some. It's lasting about 12-14 hours most days. These accessories will help charge up the phone at night and top it off during the day.
Both versions of the Samsung Galaxy S6 come with Qi wireless charging built-in. Qi wireless charging, pronounced CHEE, charges up the phone without plugging in a USB cable. It's not as fast as the Fast Charging cable/adapter, but will charge the phone overnight or add a couple of hours while working at a desk during the day so long as the phone and charger touch.
Look first at TYLT's excellent Qi charging accessories. Here's a list of awesome chargers that use Qi wireless charging. TYLT designs great accessories. They're built to last, look cool and work well. They cost a little more, but they're worth the price every time.
For a desktop charger, get the [amazon_link id="B00DG8NVQI" target="_blank" ]TYLT Vu Wireless Charger stand [/amazon_link]($58). The Vu stand holds the phone in a cradle at about 45 degrees. The cord connects on the back and keeps it out of the way. They come in Yellow, Red, Blue or Black and retail for $69.99. The one at the Amazon link above sells for just $57-$59 depending on the color.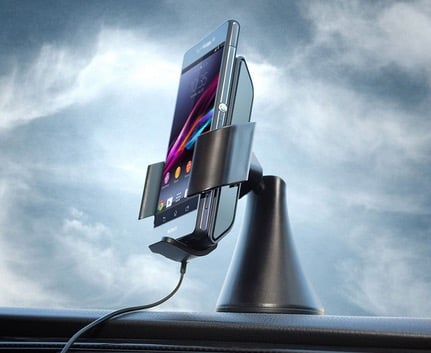 Put the [amazon_link id="B00QJ9AH8G" target="_blank" ]TYLT VU Wireless Charging Car Mount[/amazon_link] ($79.99) on the dash of your car or fasten it to windshield. The sticky suction cup holds well. The kit comes with a car charger. The Vu car charger adjusts to fit the phone perfectly and the holder swivels from portrait to landscape mode. The side arms hug the phone and expand when the user presses the button on the top of the dock to unlock them. The included DC to AC converter includes another pass through USB port.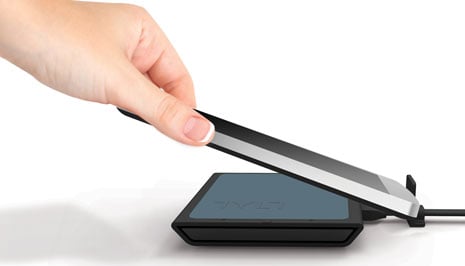 Finally, TYLT makes a small charging pad that rests on a table, nightstand or desk. It's called the [amazon_link id="B00QJ8MGC2″ target="_blank" ]TYLT Vu Solo Wireless Charger[/amazon_link] and costs $40 for the red, black or yellow and $50 for the blue. It's a square pad with non-skid feet. There's a marker tab on the cable that helps users find the perfect spot for the Samsung Galaxy S6 Edge. The Vu Solo works best for those who only need to charge overnight or at a desk while working for a few hours.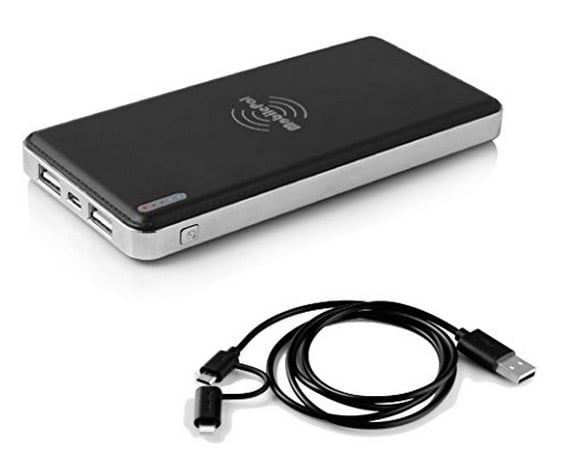 Battery back-up helps a person charge their phone when they can't get to a power outlet. The [amazon_link id="B00L7WGW5W" target="_blank" ]MobilePal Gen-2 Slim 10,000mAh Qi Wireless Power Bank[/amazon_link] does the trick. It's got a ton of great features to make it a worthwhile investment for $41. First, it serves as a Qi wireless charing pad. Second, it includes a 10,000mAh battery, which means it will charge the S6 or S6 Edge a couple of times before the user has to charge the MobilePal back up. Finally, it comes with two more USB ports for charging other accessories, like a wireless headphone or a second phone. The cable used to connect the MobilePal includes a full-size USB connector on one end and both micro-USB and Apple's Lightning connectors on the other end (see above). These features make the MobilePal one of the most versatile battery backup, Qi wireless charging device around.
Bluetooth Headphones or Earbuds
People who love to work out while listening to music on their Samsung Galaxy S6 Edge will need a good pair of stereo earbuds. Wireless makes this even better.
Plantronics makes one of the best sets of stereo earbuds. The Plantronics BackBeat GO 2 stereo Bluetooth earbuds sound good and fit well. They come with multiple tip sizes to get just the right fit in most people's ears. They sound good and last about 4-5 hours, usually plenty for most people's workout regimen. They're also good enough for calls. Get a pair on [amazon_link id="B00DIOAM4Y" target="_blank" ]Amazon with the Charging Case[/amazon_link] for about $30 less than the $99.95 retail price. The case will give users another two or three charges before they need to connect to a USB charging port.
A while back we recommended the Phiaton PS 210 BTNC Bluetooth earbuds because of the decent sound and versatile design that lets users add a stereo cable after the battery runs out. Phiaton updated the earbuds and released them as the Phiaton BT 220 NC. The NC stands for Noise Cancelling. They added Bluetooth 4.0 which gives us better range and more reliable connectivity to the Samsung Galaxy S6 Edge. They still sound great and now last about 16 hours on phone calls and 17 hours of listening time. Standby should last for weeks.
Stereo Speakers for Home or Office
We've got Qi charging accessories and Bluetooth headsets above. How about a Bluetooth alarm clock radio with a built-in Qi charging pad? That's what you get with the Olixar Qi-Tone Alarm Clock Bluetooth Qi Charging Speaker. It's made of wood, so it looks good on a desk, a nightstand or shelf.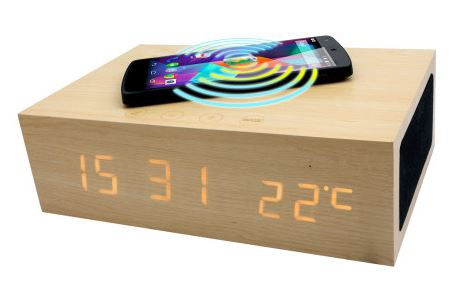 The display will show the time and temperature.
The speakers offer 3W of power and measure 1.5-inches. They sound decent. The 3.5mm auxiliary input means a user can also connect other devices if needed.
Unfortunately, it's only Bluetooth 2.1+EDR. Bluetooth 4.0 would give better range and reliability.
Tempered Glass Screen Protector
Don't use any other kind of screen protector. A tempered glass screen protector feels like the phone's glass screen while plastic screen protectors always make the phone feel like a toy. Glass screen protectors also hold up better. My son dropped his phone recently and the glass screen protector I put on it shattered. It took all the force of the impact and kept the screen in pristine condition.
The Samsung Galaxy S6 presents an issue. Curving those edges makes it hard to find a glass screen protector that covers more than just the flat front of the phone.
The Olixar Samsung Galaxy S6 Edge Tempered Glass Curved Screen Protector costs $37.99 from MobileFun.com, the exclusive store for this product. It's not yet available, but they're taking pre-orders.
For those who want protection for their S6 Edge screen in the interim, the cases above come with cheap plastic screen protectors. Don't spend too much on one unless you don't ever plan to go with glass.
Chromecast or Miracast Receiver
At some point, Samsung Galaxy S6 Edge users will want to send the contents of their screen to a larger display, like an HD television, a projector or monitor. Get either a $35 Google Chromecast or a Miracast Receiver.
The Google Chromecast works great because it's cheap and simple. Also, buying one often comes with special deals like free Google Play Store credit or a month's subscription to Hulu Plus. Don't buy it at the Google Play Store. Amazon sells the [amazon_link id="B00DR0PDNE" target="_blank" ]Google Chromecast[/amazon_link] which also works well.
Get the Chromecast for only occasional use.
If you plan to cast your phone's screen but also want to connect a Windows PC, then Miracast offers the best solution. A TV set with Miracast or a wireless Miracast dongle shows the entire S6 Edge screen.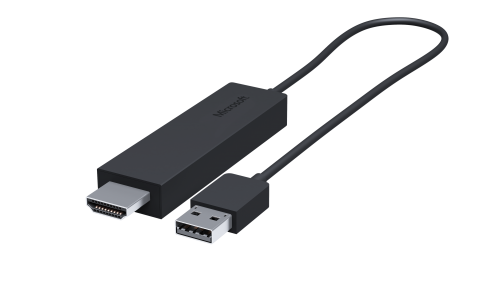 The best Miracast options include the Roku 3 or the Microsoft Wireless Display Adapter. The Microsoft Wireless Display Adapter connects to an HDMI port and gets power from a USB port on the display or from an AC adapter. It works great with the S6 Edge.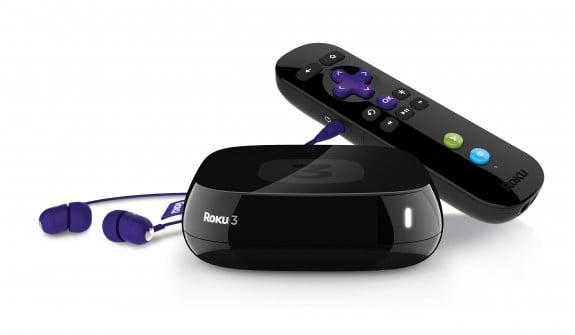 Roku just updated the Roku 3 with voice search. Use the remote to search for an actor, a movie or TV show or channel by tapping on the voice search button and talking into the remote. Users can also install the Roku app on their Samsung Galaxy S6 Edge and use it to search, control the box and enter things like user names or passwords for various channels like Netflix, Hulu Plus, Sling TV or HBO Go with the phone's keyboard.
Get the [amazon_link id="B00J9C2JDG" target="_blank" ]Microsoft Wireless Display Adapter[/amazon_link] from Amazon for $44, a big savings over the full price. The [amazon_link id="B00UJ3IULO" target="_blank" ]New Roku 3 Streaming Media Player with voice search[/amazon_link] costs $95, a $5 savings off the retail price.

As an Amazon Associate I earn from qualifying purchases.