First Big Fix for Batman Arkham Knight Problems Arrives
There's some relief in sight for those running still running into Batman Arkham Knight problems. Less than a week after the Batman Arkham Knight release and days after the Windows PC version of the game was pulled from online stores, video game developer Rocksteady Studios is delivering the first of what should be multiple Batman Arkham Knight fixes and sharing details about what's coming next.
Rocksteady detailed the fixes coming to address Batman Arkham Knight problems in a post on the game's combined community forum. Though the forum offers advice and tips on every version of the game, the problems and their fixes are specific to Batman Arkham Knight for Windows PCs. Again, it's that PC version that ran into performance issues hours after launching on gaming download service Steam and arriving on store shelves.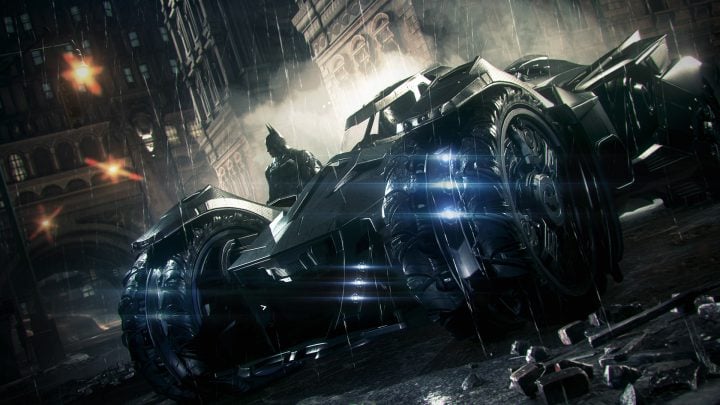 The Batman Arkham Knight patch from this past weekend fixes a crashing bug that only occurs when gamers try exiting the title. Also fixed is a bug that stopped weather and rain effects from happening in the game. Rocksteady says it's working to "improve" on weather systems in other patches. At launch there was an issue that would force the Steam client into downloading the game's essential files over again. That's been corrected in this first Batman Arkham Knight patch. This first update also addresses an issue with the game completely crashing after users turned off its Motion Blur effects.
For the future, Rocksteady plans to support higher-frame rates directly through the settings menu, address some texture issues causing the game to look less than stellar, improve the graphics menu, fix full-screen rendering issues and improve on the way Batman Arkham Knight handles the system resources it has available to it. Fixes for NVIDIA SLI bugs and problems with AMD and NVIDIA drivers are on the way too. Rocksteady isn't providing a specific time-table for the updates that'll fix each of these Batman Arkham Knight problems.
Batman Arkham Knight is this summer's must-have video game on just about every platform. Originally planned for release last year, the game adds the Batmobile, a new line of gadgets and an even bigger open-world to the venerable Batman Arkham franchise. Games in the series have always done well, which is why the PC version of Batman Arkham Knight having problems was such a shocker for most. It turns out that it was a third-party developer's job to bring the great Batman Arkham Knight experience from video game consoles to the PC.  The Xbox One and PS4 versions of the game were developed directly by Rocksteady Studios, which is now taking the lead in addressing these issues head on.
Read: 9 Batman Arkham Knight Tips to Level Up Faster
In Batman Arkham Knight you once again taken on the role of Bruce Wayne. It's going to be another crazy night in Gotham City. Scarecrow has used his toxin to bully the citizens of Gotham again, this time forcing them to flee to other cities or risk being exposed to his toxin. With the Joker dead, he and his ally — the Arkham Knight — have taken the entire city hostage. Armed thugs roam the streets and what little fire and police presence is left isn't enough. Soon, the Arkham Knight moves in his own military forces. The new Batmobille acts as mobile command center, allowing you to take on the Arkham Knight's street forces, drone tanks and just about anything else that stands in your way. Batman isn't having any of Scarecrow's dirty tricks this time; it seems he'll do anything to stop Scarecrow and the Arkham Knight.
Batman Arkham Knight is available only on the PS4, Xbox One and Windows PCs. Anyone who purchased the PC version and has run into issues might be eligible for a refund directly through Steam. All three versions of the game are priced at $60.

This article may contain affiliate links. Click here for more details.