First Major Halo 5 Update Brings Big Upgrades
Players of Halo 5: Guardians can expect a major new update that adds new weapons and a new multiplayer game type to its extensive line-up of activities that Xbox One players can already participate in.
Video game developer 343 Industries revealed the first major Halo 5 update this morning in a post on Halo Waypoint. Halo 5: Guardians is the first-person shooter that Microsoft launched for the Xbox One on October 27th. The game's story revolves around Master Chief John 117 and a new protagonist named Spartan Locke. Gamers can go through the story or team up with three other players to complete the campaign. Besides the story, two multiplayer experiences, Warzone and Arena, also come included with the game.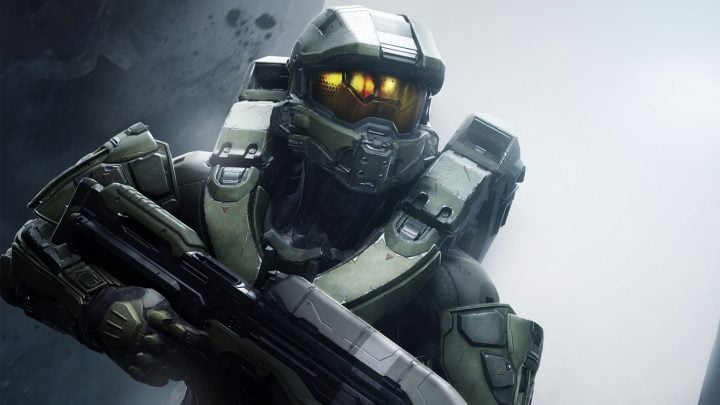 343 Industries' first Halo 5 update is called Battle of Shadow and Light, and it'll provide some new content for users who play those two multiplayer modes. Next week, players of Arena are getting a Big Team Battle, the video game developer says. Big Team Battle divides 16 players into two teams to kill the opposing team as many times as possible. The game mode will get four new maps for the game type: Deadlock, Basin, Guillotine and Recurve. Big Team Battle is strictly for Halo 5 Arena multiplayer.
Read: 5 Halo 5 Tips for Campaign & Multiplayer Success
Warzone and Arena multiplayer allow users to customize their experience through what 343 Industries calls the REQ system. Competing in multiplayer lets Xbox One owners amass REQ Points that can then be spent on REQ Cards. Some of those REQ Cards provide weapons, vehicles and power-ups for one game. Other REQ Cards allow players to make permanent changes to their character. This new Halo 5 update adds new REQ Cards of both types.
The new Shinobi Armor Set and Tracer Armor Set are permanent unlocks. Also included in this Halo 5 update are the Skull King, Flaming Horns, Space, Heart, Club, and Diamond name logos. Worthog, Mongoose, Scorpion and Mantis vehicles all have camouflage skin upgrades that make them perfect for use in the woods and in the snow.
These new REQ Cards range from Common to Legendary Status. Users can purchase Premium REQ Packs directly from the Xbox Store if they'd like to try for some of this updates rarer items. Gold Halo 5 REQ Packs cost $2.99 and include two permanent REQ Cards for character customization. Silver Halo 5 REQ packs include 2 permanent REQ unlocks as well.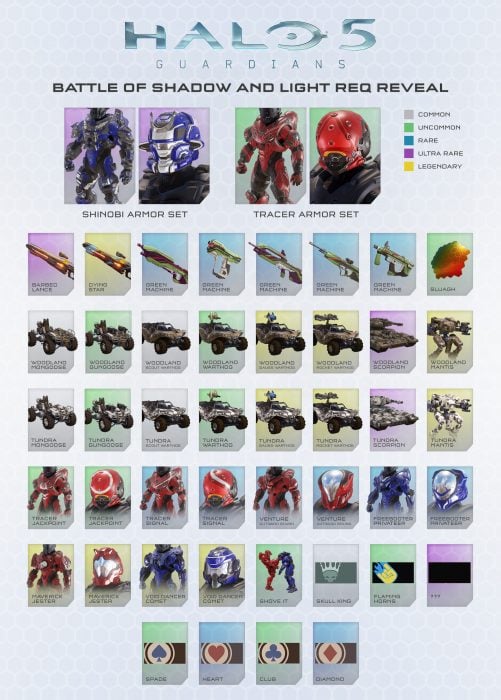 Throughout the life span of Halo 5: Guardians, 343 Industries has promised tons of Halo 5 updates like this one. With this game's multiplayer, the studio is treating Halo 5 multiplayer like a service. Past games in the series would include a basic set of maps and game types. Eventually, new multiplayer modes and maps were added, but users had to purchase map packs through the Xbox Store to unlock those new areas. 343 Industries has promised monthly updates to Halo 5: Guardians multiplayer, adding new REQ Cards and maps that complement game types on a regular basis.
Users don't have to pay anything extra for these new maps. 343 is treating them as a title update. The idea is that more users will continue to play the game for longer because there's always fresh content. What's more, the online portion of the game won't get segment people into those that have the current map packs and those that don't.
Halo 5: Guardians is available on the Xbox One for $59.99. Microsoft also has an Xbox One bundle that comes with the game and some extras for $499.99. The company is hoping that the game will convince more Xbox 360 users to upgrade their console this holiday season. There isn't a version of Halo 5: Guardians for the Xbox 360.

This article may contain affiliate links. Click here for more details.