FIRST! MSI releases 3D, multi-touch all-in-one
An all-in-one multi-touch desktop that can display 3D video would be a first. Bolstering that with THX TruStudio Pro audio and USB 3.0 is a little nuts, but that's what MSI has done with the AE2420 3D.
Gizmodo has their first impressions posted, and "impressive" is the operative word here. To enable 3D movie viewing, the all-in-one features a 24″ 120Hz LED back-lit display, Intel Core i7 processor, and ATI Mobility Radeon HD5730 graphics with Blu-Ray drive standard. The media experience on this thing must be insane.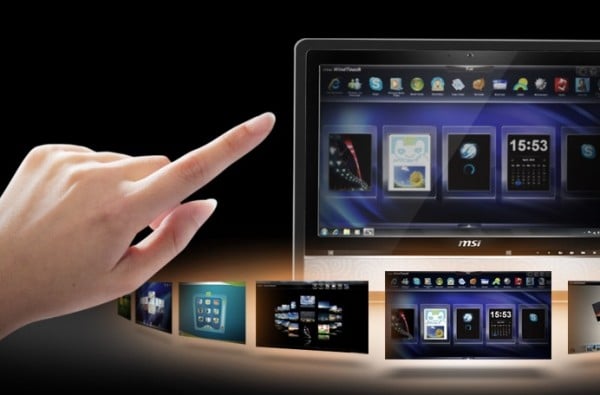 You'll need to keep a soft rag handy to keep that screen clean because it features multi-touch screen input and MSI's suite of Wind Touch software for launching applications, leaving notes, and sending email. Fortunately, the 3D viewing is limited to media otherwise you might be clumsily trying to tap on floating images instead of items on-screen.
Despite all the cutting edge inclusions, one critical component left out is a TV tuner. Yeah, you might think TV is antiquated, but I've been watching football this past week in OTA high-def. If they had a TV tuner in this thing paired with Windows Media Center, a sports fan could plant himself or herself in front of it and never leave.
No mention of tilt angle in the specs, but I imagine its minimal due to the focus on media. Between that and the lack of TV tuner, this PC barely takes advantage of the premium features (touch and media) of its Windows 7 Home Premium operating system. Lot of power and potential here, but I don't think it all comes together very well.
First impression review and press release at Gizmodo.