First Xbox One Game Deal Sets the Stage for A Take Over for Digital Games
With the Xbox One launching last fall with a hand-full of titles that were all available as digital downloads, many concluded that this would be the console generation that finally ushered in digital games. After all mandated that game developers make digital copies of their games available on the same day as they arrive on store shelves. Unfortunately, excitement for digital games quickly cooled.
Now Microsoft is back with a new digital games deal that could boost sales of the newly reinvigorated Xbox Games Store and take away one key advantage physical games still have over digital titles: price.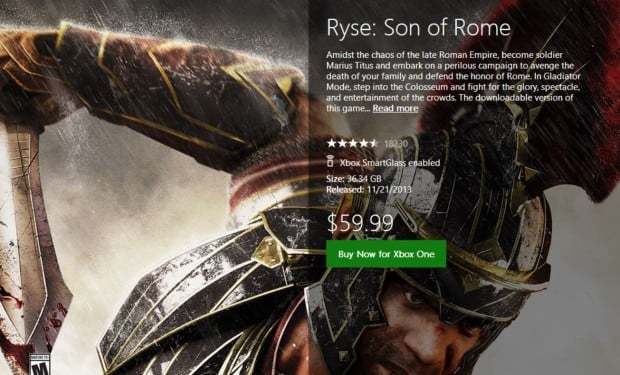 To be clear, Microsoft's announcement that it would slash the price of Ryse: Son of Rome for the Xbox One might not sound like it's a big deal. Xbox One buyers and gaming lovers will note that Ryse initially debuted alongside the Xbox One earlier this year.
What's key here is that Microsoft is slashing the price of the game at all. That's because with the Xbox 360 Microsoft mainly focused on simply providing the game for users to download. In most cases it completely ignored any calls for digital games for the Xbox 360 to be competitively priced until well after they'd left the public consciousness.
That phenomenon was something Microsoft needed to avoid if it hoped to supplant sales of physical games. More specifically, it needed to show users that its Game Store could compete with the lower pricing of used physical game stores like GameStop.
Read: Should You Buy Digital or Physical Games for the PS4 and Xbox One?
Typically, GameStop significant lowers the prices of its used games over time. Many users simply pick up their games this way, saving a bit on the cost of the game and finally getting time to play it after the obsession with it has passed.
Of course, cheaper digital games are only half of the battle. Microsoft also has to figure out a way of overcoming the other advantages that physical and used game buyers enjoy. Chief among this is game sharing, something that today, users can't easily do with digital titles.
While the Xbox One allows users to sign into other Xbox One's and download their game library locally, that process takes time. That game also stops working the moment a user signs into their own console.
Microsoft says that the discounted Ryse should go on sale sometime today for 33% off in the United States. That means that Xbox One owners can pick up Ryse for just $39.99. The game still costs GameStop shoppers $54.99 used.