FitBit Announces Android App, Brings Syncing To Galaxy S3 and Note 2
FitBit announced its first Android app for its line of fitness trackers this week, though it only supports two Android phones so far.
The new FitBit Android app will let FitBit users sync their mobile fitness devices to their Samsung Galaxy S3 or Samsung Galaxy Note 2. The app  only supports those two popular Android phones at the moment, but in the future it may support more. Even with its limited functionality, the app is one of the first fitness trackers to support Android.
The new app will sync to recent FitBit devices over Bluetooth 4.0, which means users are able to get data fed to their phones in real-time. Bluetooth 4.0 also means better battery life for the device and the phone.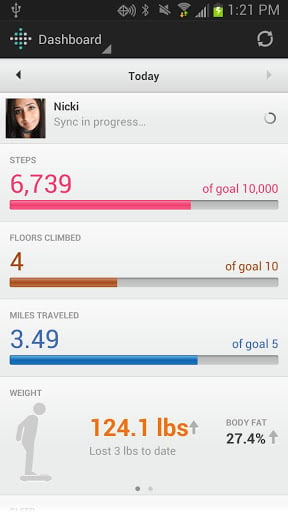 FitBit for Android currently works with the FitBit Zip and FitBit One, the company's latest fitness trackers and the first FitBit devices to support Bluetooth 4.0. The app will also work with the upcoming FitBit Flex, which the company announced at CES.
The new Android FitBit app does have one advantage over the iPhone app in that Android phones support NFC. The new FitBit Flex will use NFC for easy pairing so users will only have to tap the device to their smartphone to pair the two. iPhone users will still have to go through menus to pair the devices as no iPhone supports NFC.
The FitBit Android app is currently in Beta, which means syncing data may take longer than expected. The app may take up to 30 seconds to sync data between the Galaxy S3 or Note 2 and the FitBit tracker, but that time will decrease soon. FitBit is hard at work on an update that will soon cut the syncing time down to just 10 seconds. There's no word on when the update will come, only that it will come out "ASAP."