Fitbit Flex Fitness Tracking Wristband Now Available For $99.95
About five months after its announcement at CES 2013 the Fitbit Flex fitness and sleep tracker is now available for $99.95.
The Fitbit Flex is the first Fitbit users can where around their wrist at all times. The Fitbit Flex tracks many of the same stats as other Fitbit devices including steps taken, calories burned and distance travelled. It lacks the altimeter of the Fitbit One that tracks flights of stairs, but it adds a new stat: active minutes.
With active minutes the Fitbit Flex will track how many "moderate-intensity cardio minutes" has everyday. The Center for Disease Control recommends 150 moderate-intensity cardio minutes a week, and the Flex is one of the first fitness trackers to track the stat.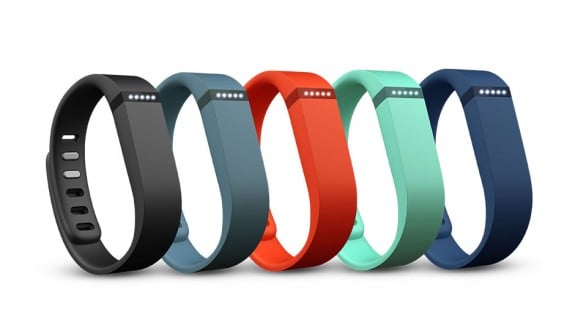 The new Fitbit Flex also tracks sleep. The device can tell users how many times they wake up each night and how restless their sleep was. Users just wear the wristband to bed at night and enable sleep tracking on the mobile app. Users can also log sleep in the morning should they forget to set it.
Unlike other Fitbit devices, the Fitbit Flex lacks an LCD display to show stats of the day. Instead the device has five LEDs that will show the user how close they are to setting a goal such as 10,000 steps. Each LED represents 20 percent of the final goal, and every time the wearer hits a goal the device will vibrate to celebrate.
Users can keep track of more detailed stats on the Fitbit iPhone and Android apps. The device will work with any recent iPhone, but will only work on select Android devices including the Galaxy S3 and Galaxy Note 2. There is also a new web dashboard that will give users the same data. The device syncs to desktop computes via an included USB dongle.
To help track even more stats Fitbit partnered with other services including Endomondo, LoseIt, MapMyFitness, MyFitnessPal and Sparkpeople to bring more states into the app and dashboard. The result is better picture of the users health, which should help many users.
The Fitbit Flex is now available for $99.95 from Fitbit and comes with either a Black or Slate wristband. Users can buy Teal, Tangerine and Navy wristbands for $14.95 each or $29.95 for all three.