Five Useful and Affordable Camera Apps for iPhone
Every iPhone owner has a collection of apps that they recommend to their family and friends. Most of the time these apps include games, maybe an app to get things done. This list usually includes camera apps.
Camera apps are common in the app store and they vary greatly. While most of the camera apps are free, there are also paid versions that are worth checking out.
Some apps like Instagram add a filter over your photos to give them a new look and let you to share pictures with friends. Camera + has a lot of tools to edit photos so they can be shared over facebook or twitter. Check out the full list of apps and their features below.
5 new iPhone camera apps
Pixlromatic
Pixlromatic is a free photo app for editing and shooting with a clean and easy-to-use interface. The app has 25 different color filters that can be applied to your photos by default. With in-app purchases, additional packages of color filters can be bought. The app lacks direct sharing to twitter, though, which is a disappointment.
Instagram
Instagram is one of the better known free photo applications. Extremely easy to use, it also has great options for sharing edited photos. Instagram has its own personal social network baked in, so collaborating with other users is a breeze. A lot of people use Instagram to share their photos, other than just posting them on social media like twitter and facebook. It does miss out on the more advanced editing methods that present in some other apps.
Facebook Camera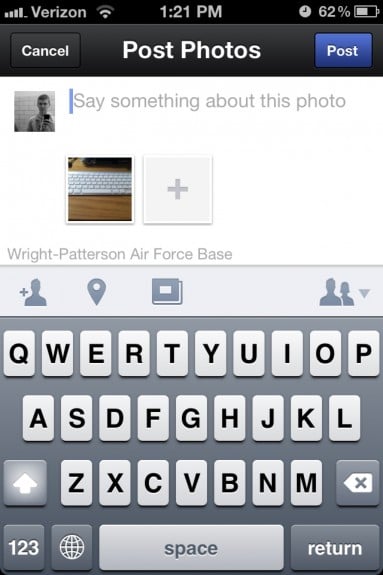 Facebook Camera app shares photos stored on an iPhone with friends and family on Facebook. The app has great navigation and also features easy access to the camera roll. Uploading pictures to Facebook works flawlessly, and the editing tools closely resemble Instagram's. A cool feature of the Facebook Camera app is that it shows the photos your friends have recently posted and also notifications of likes and comments on your personal photos.
Camera Awesome
Camera Awesome is free photography app that does a lot. Unlike the other applications, Camera Awesome can take video as well as capturing stills. From using the gyroscope to line up your shot, to tweaking the contrast and saturation, almost every base is covered when it comes time to making your photos look great. The app also has options when it comes time to share the photo to your favorite social network.
Camera+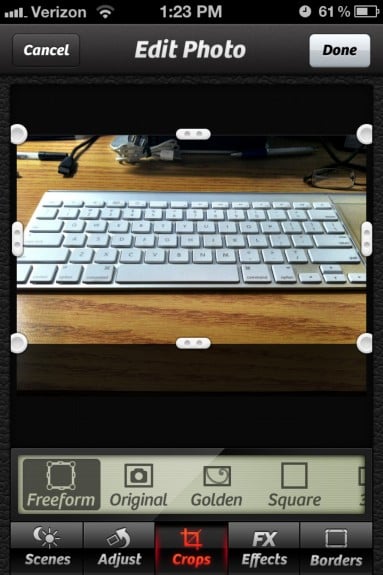 Camera+ is 99 cents. It looks a lot like Camera Awesome, but there are some distinct differences. The biggest of these come while editing. Camera Awesome does a great job as a free app to provide a lot of control over how a photo turns out, but Camera+ takes it to the next level with the ability to crop pictures, add borders, adjust the angle and add a variety of special affects. That's a lot more than just default color filters. When it comes to shooting Camera + has some nice features including autofocus and a convenient slider to zoom in before taking a photo. The biggest disappointment for me is that Camera+ does not have an option to shoot video, like Camera Awesome does.
The apps listed above are a great collection that are more than capable of editing and shooting great iPhone photos. What apps do you use to edit/shoot with your iPhone? Leave us a comment with your apps below.