Fix Coming Soon for Watch Dogs Problems Frustrating Users
Developer Ubisoft has confirmed that it has a fix on the way to address the horrendous game saving issues among other Watch Dogs problems that have surfaced since the game's launch last month.
Ubisoft announced an upcoming patch for Watch Dogs on its community forums earlier today. When this patch arrives it'll not only include a fix that stops Watch Dogs from corrupting game saves, it'll also automatically recompile user's game saves so they can pick up the game's campaign and side missions exactly where they left off. That's absolutely great news for Watch Dogs players who'd found that the game would only load a percentage of their save before getting stuck.
When the update launches on all versions of the game it'll also include fixes for random bugs that the company wasn't able to squash before Watch Dogs' release. Ubisoft is putting an end to the glitches that prevented users from finishing specific missions in the wrong circumstances. It's also squashing a problem that left users without any weapons to choose from.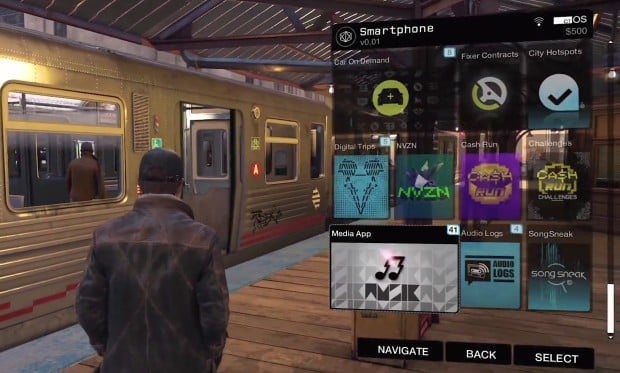 This update will address a specific issue that kept users from hacking the ctOS operating system that the futuristic in-game version of Chicago uses for just about everything. Watch Dogs heavily relies on that game mechanic to aid players in their adventures. Without it, users would have to rely on stealth and the game's shooting mechanics to get them through most levels. Some levels in the game are completely unbeatable without hacking.
Ubisoft has only confirmed that this update will recover user's mission progress. Some users may still find that the collectibles they've found are still missing. Ubisoft says those may remain unfix-able even after this update.
The developer's post notes that PS4 and PS3 users should expect their console to automatically prompt them to update pretty soon. It also noted that PC Watch Dogs players should expect the update to arrive in the next few days. Its Xbox One and Xbox 360 users that are being left in the lurch for now. There aren't any recommend ways of getting around these issues and Ubisoft is only saying that the fix will be available "within the next week" for those consoles.
Really, it's a shame that such a debilitating issue has effected an otherwise really decent game. Watch Dogs launched this past May to wonderful reviews. Mostly that was due to its mix of unique gameplay elements and traditional gun play. In Watch Dogs users are given just a smartphone and some basic weaponry.
The smartphone is important because almost every bit of Chicago is controlled by a single operating system called ctOS. Users can openly hack ctOS to assist them with tasks in the game. For example, users can engage in a shootout with a private security group to break into a specific area or they can take out the power grid in the area and slowly assassinate the entire protection team in the dark. ctOS hacking also comes in handy when users are trying to end car chases or stopping fugitives without jeopardizing citizens lives.
The hacking makes what would otherwise be a pretty pedestrian open-world game feel fresh and new as Gotta Be Mobile noted in its review of the game last month.
Read: Watch Dogs Review – Is it Worth Buying?
Xbox One users will find that their copy of the game is updated in the background if they have the console's low-power mode enabled. PS3 and Xbox 360 users will get a prompt to download a title update the moment they start-up the game. Currently Watch Dogs is only available on the Xbox One, Xbox 360, PC, PS3 and PS4. The game isn't on the Wii U yet, but Ubisoft has plans for a release on Nintendo's console later this year.

This article may contain affiliate links. Click here for more details.