Fix for Batman Arkham Knight PC Problems Finally Arrives
Video game publisher Warner Brothers and developer Rocksteady Studios finally begin taking steps to remedy the Batman Arkham Knight problems that have plagued the Windows PC version of the game for months. Today, owners of Batman Arkham Knight for PC can finally download a fix to address the extensive problems the game has.
Warner Brothers Interactive Entertainment announced that a new fix for Batman Arkham Knight problems on PC was available late yesterday on Steam, one of the world's leading PC gaming services and the online retailer that Warner Brothers was forced to pull the game down from when it failed to meet the expectation of players.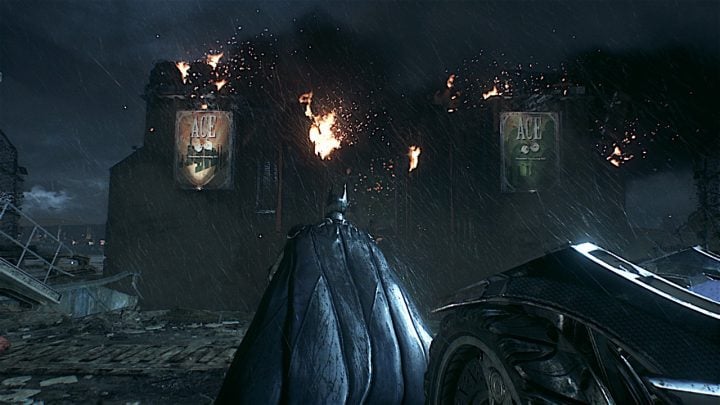 This new fix for Batman Arkham Knight problems finally addresses the frame rate issues that tarnished the game's launch back in late June. Sometimes, the game will slow to a crawl as it struggled to render a lot of visual effects on-screen. This is a problem that also surfaces on the Xbox One version of the game when tearing through the streets of Gotham City in the Batmobile. Textures bugs that caused Batman Arkham Knight to look pretty terrible are fixed with this upgrade too. Rocksteady Studios, the developer of the Xbox One and PS4 versions of the game, also introduced a ton of new options and switches for managing the game's performance on PCs. Rocksteady also says that the game should perform better on more graphics cards too, another big complain that users had.
That this fix for Batman Arkham Knight problems is available now is certainly a good thing. The wait time for patches was pretty embarrassing for Warner Brothers, which launched Batman Arkham Knight for PC, PS4 and Xbox One on June 23rd. Warner Brothers and Rocksteady are already promising to add better hardware support for AMD GPUs on systems running Microsoft's Windows 10 operating system and fixes for memory bugs that continue to plague the game on Windows 7.
With Batman Arkham Knight problems finally getting addressed, Warner Brothers now has a different issue to tackle. The publisher shocked the gaming industry when it announced a $40 Batman Arkham Knight Season Pass that would give users access to new content every month for six months straight. Xbox One and PS4 users who invested in that past have gotten new challenge maps, new character skins and a short story dedicated to playing as Batgirl. With the PC version in such bad shape, this plan for Season Pass content was pretty much abandoned. Even those who didn't run into any Batman Arkham Knight problems couldn't get their hands on the downloadable content.
Warner Brothers says it looks to get the Batman Arkham Knight Season Pass back on track for PC gamers soon. "Support for the latest DLC & Season Pass content" is coming in another update. This week Batman Arkham Knight Season Pass holders got an upgrade that included challenge maps for completing objects has Batman, Robin, Nightwing and Catwoman. The Tumbler Batmobile from Batman Begins and GCPD Lockdown story mission are coming sometime later this month. Hopefully, Warner Brothers and Rocksteady will have added DLC and Season Pass support to the game by then.
Read: Batman Arkham Knight DLC Release Plans Revealed
Windows PC users can also expect an update to add the Photo Mode that Xbox One and PC gamers have had access to for weeks now. For now, it appears Warner Brothers still has plans to re-release Batman Arkham Knight for PC sometime this fall. It's also coming to Mac, Linux and Steam OS this fall too.
In Batman Arkham Knight, Scarecrow has recruited a new villain to help him spread his fear toxin across Gotham City. Named the Arkham Knight, this new foe and his army occupy Gotham City. Batman, ups the ante, teaming up with allies and calling in the most advanced Batmobile we've ever seen. In the game, players get to pilot this Batmobile. In fact, it's featured pretty heavily throughout the experience.

This article may contain affiliate links. Click here for more details.