Flappy Bird Clone Arrives for Android Wear
A few weeks ago at Google's annual I/O developer event the company announced and released the first two smartwatches running the all-new Android Wear. A brand new operating system built for wearable devices that aims to change how we interact with our smartphones through wearable technology. It also plays games, and the inevitable happened and we now have a Flappy Birds clone for Android Wear.
The LG G Watch and Samsung Gear Live are the first two Android Wear smartwatch options available, which went up for sale two weeks ago and began shipping to consumers yesterday. It has only been available for a few days and just weeks for developers, but games have already started to arrive.
Read: 5 Flappy Bird Alternatives to Keep You Frustrated
Earlier this year a ridiculously difficult and frustrating game was released that you all have probably heard of, called Flappy Bird. It was the talk of the internet world for weeks, and eventually the developer pulled the app from the Google Play Store and Apple App Store. Don't worry though, because it's back and available now (a clone) for Android Wear and your smartwatch.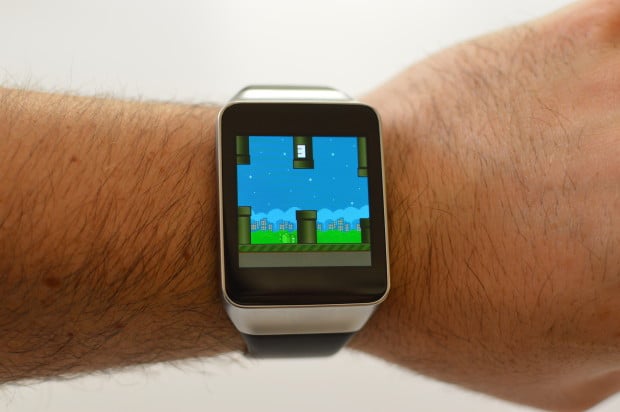 The game was so easy yet difficult it drove users to frustration, which quickly led to uninstalls, re-installs, and angry gamers. As a result of the success there's now dozens and dozens of clones, and one has already been made that works wonderfully with Google's new Android Wear platform. It's called Flopsy Droid, and you'll be playing the Android figurine robot rather than a flapping bird, but the concept is identical.
Obviously this isn't what Google had in mind with Android Wear, but with it being an open platform tons of games and unique apps are likely to continue emerging over the next few weeks and coming months. Android Wear is more of a second screen for our smartphones. Capable of pulling notifications from Gmail, games, apps, text messages, or even let you answer and make calls using the built-in microphone and speaker. Android Wear-powered smartwatches have a lot of promise, and now you can game on them.
Read: Samsung Gear Live: Hands-On with Android Wear
The original Flappy Bird made such a ruckus that the developer eventually removed the app after the uproar of fans, frustrated gamers, hacks, clones and more. And while he's promised the original title will make a return soon, for now these popular and addicting clones will have to suffice.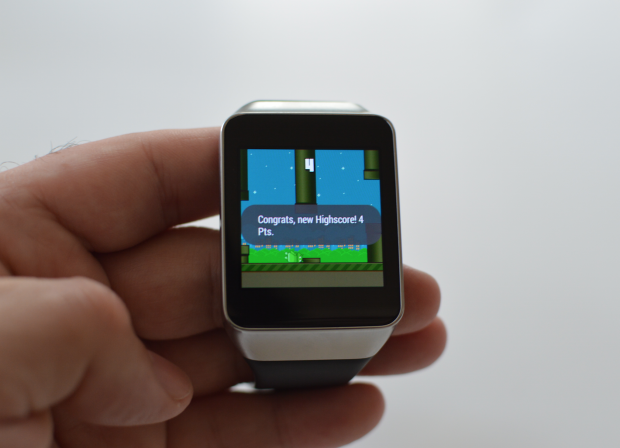 It was inevitable that we'd see a Flappy Birds clone arrive on Android Wear, but we didn't expect it to be one of the first and easiest games to play on the smartwatch platform. Simply head to the Google Play Store and install the all-new Flopsy Droid on your smartphone, then say "Ok Google, start" on your Android Wear watch and scroll down until you find the game. Tap it, and enjoy "Flopsy Droid" and prepare for frustration.
I got a high score of 4, as shown above, and quickly uninstalled it to keep my sanity, but others will likely enjoy showing this off to friends and family or keeping them busy during a quick commute to work.
As a reminder, this is just one of many games consumers can expect to arrive on Android Wear. Being an OS that pulls information from our smartphones users will be able to download games to their smartphone or tablet, no interaction on the watch, then simply access and play them with ease. This is the first of many, so get ready to game on those smartwatches.