Flappy Bird Is Back: Play It on Any Device with a Web Browser
The developer of the frustratingly popular Flappy Bird mobile game has removed the game from the iTunes App Store after claiming he was tired of the fame that he's been receiving, which has mostly been bad fame, unfortunately, due to the title being frustrating because of how difficult it is.
Those who already have the game installed can still enjoy playing it whenever, but for those who haven't gotten the chance to install it yet, they're out of luck. However, you can still play Flappy Bird in your web browser of choice, whether it be on a computer, smartphone or tablet.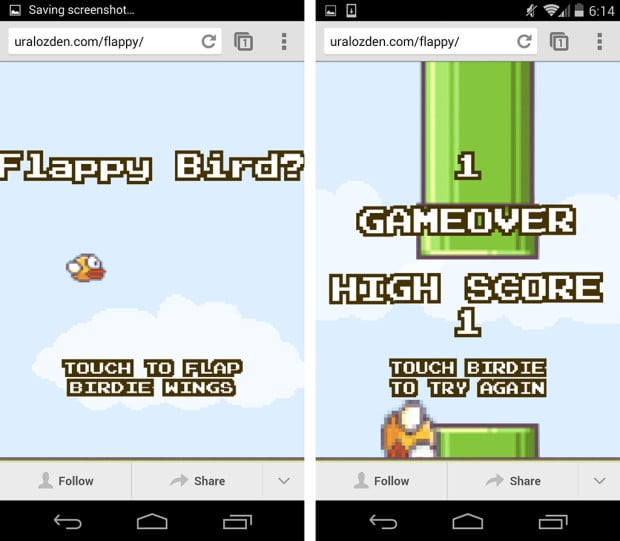 This means that not only can anyone still play it on their iPhones, the game can be played on any smartphone or tablet, including Android devices. Just navigate to uralozden.com/flappy to get going.
UPDATE: CrazyGames.com also has web-based version of the game that's actually closer to the real version that used to be officially available.
The web browser-based game uses HTML5, which gives it the ability to work seamlessly on any device with a web browser. We've tried it in Safari on the iPhone 5s, as well as in Chrome on the Nexus 5. The edges get cut off just a tad on the smaller screens (as you can see above), but that doesn't impede on playability at all.
This version of Flappy Bird can sense both mouse input (and trackpads) and touch input, based on the device you're playing the game on.
Flappy Bird has grown in popularity due to its frustrating and difficult nature. The gameplay style is very similar to the popular Jetpack Joyride mobile game, in which you guide a bird through a series of oncoming pipe openings and take the bird as far as you can for a high score. It sounds fairly simple — and it is — but that doesn't mean that it's easy to do; it's not.
With that said, we're not very good at it. Personally, I can barely make it through one pipe without dying, so we're impressed with those who can make it through several. Let us know your high score in the comments!