Flashback: "Webslate" concept from 1999
Forum member segalsegal shares with us this blast from the pre-Tablet PC past: a concept "webslate" designed for the Transmeta Crusoe processor (which old-school Tablet PC enthusiasts will remember from the pre-HP Compaq TC1000).
As envisioned by design consultancy IDEO, the webslate features an 8″ touchscreen and, as the name implies, was intended for web surfing but also as the core component of a modular computing system. Photo and more about that idea after the jump.

The modules can be added to any of the four sides for landscape or portrait format, and include a camera for on-the-road videoconferencing, a GPS module for navigation, audio speakers and controls for downloaded music, and modules for game playing across the web. A snap-on cover protects the screen and provides a folding stand for a vertical viewing angle.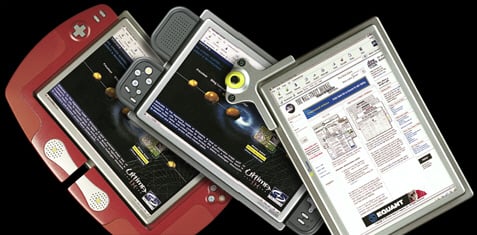 The modular design is something I've long hoped would evolve in Tablet PCs. Hybrids like the TC1000/TC1100 were an early form of this, and we've seen other variations since then, like the Lenovo Ultrabase and Fujitsu's modular bay. But we still haven't seen things like gamepad extensions, something that could go over pretty well given the success we've been seeing with UMPC gaming. Currently, I'd say the iPhone with its dock connector is the only slate device on track to run with this approach.
This also makes me wonder how far along we'd be with web tablets had Transmeta taken off as a chipmaker. Instead of watching Nokia Internet tablets shrink, waiting on the Crunchpad, and speculating on the Apple tablet, perhaps we'd all be reading this from our webslates.