FLASHr iPhone Case Delivers Brighter LED Flash Notifications
One of the most requested iPhone features we hear from users who switched to the iPhone from an Android smartphone is to receive visual LED alerts for new messages, emails and calls.
Apple allows for LED flash for Alerts using the camera flash, but that's a brute force solution and doesn't compare to the LED style notifications Android users are used to.
FLASHr is an iPhone case that turns the bright flash into something a little more toned down. Well as toned down as a bright flashing light can be.
Check out the FLASHr iPhone 4/4S case in the Kickstarter video below.
The case uses Accessibility option in iOS 5 and higher to control the flash for incoming alerts, so there's no need to rely on a dock connection or any type of jailbreak hack to make this work.
The back of the case comes in a variety of colors that determine the color of the flash. The flash lights up inside the case, illuminating the tinted plastic frame which shines through the openings on the side and top of the case, as well as a cutout that sits over the Apple logo. The video below does a good job of explaining how the FLASHr case works.
When you want to take a photo, a small piece of the case moves out to allow the flash to pass through without lighting up the case and ruining the shot.
The duo behind the FLASHr iPhone 4 and iPhone 4S case offer five color s for the plastic and five colors for the aluminum reflection chart. The cases come in a wide variety of colors and combinations, one of which is shown below.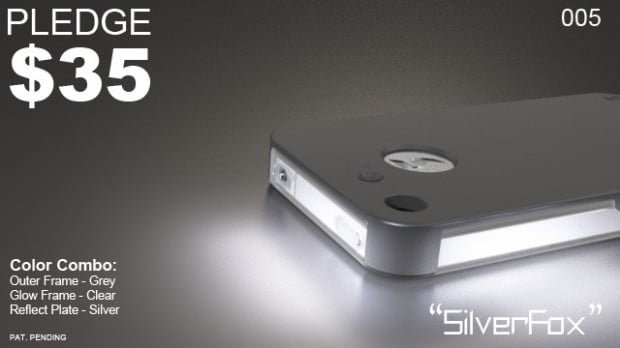 The team is on KickStarter trying to raise $75,000 to complete the project and is offering backers rewards starting at $35 for a FLASHr case, with a fw early backer spots open at $30.
This looks like an interesting case for iPhone owners who want bright visual notifications.

As an Amazon Associate I earn from qualifying purchases.