Fling: A Mediocre Joystick for Capacitive Touch Screens
Gaming with you iPad can be a lot of fun, but for games that normally utilize a gaming pad or joystick it can be frustrating. 60beat had one iPad gaming solution that only works with a couple of games, but Ten One Designs went another direction with The Fling, which attaches a capacitive joystick onto your screen using suction cups.
I tested out The Fling using Madden NFL 12 for iPad. EA did a nice job porting the game over to the iPad, but you still control your running players using an onscreen joystick, which I don't enjoy. Place The Fling over the control on the left side and you are supposed to get better control of your player.
The ad copy at the Ten One Designs site says, "Once you start gaming with Fling, you'll never go back." They will be sad to hear that I went back. The control was not much better than using the onscreen control in the game.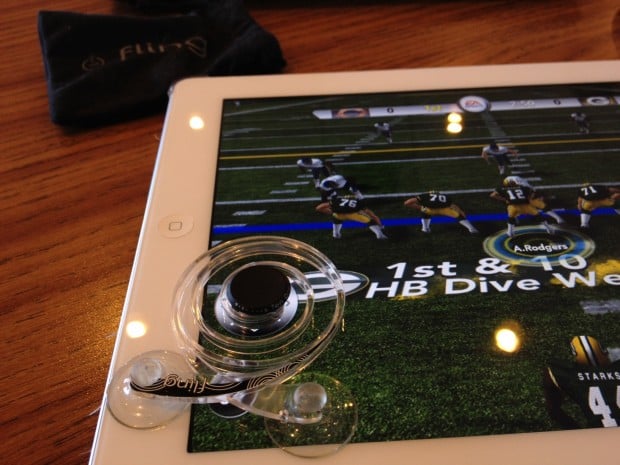 Design
The Fling's black button presses on the controls of the game. Attached to the button is a clear spiral which allows you to easily move around so you can move the controller of the game up, down, left and right quite easily. Two suction cups fasten the controller on the screen. Fortunately, they never came lose even during some intense game play. The button only controls the onscreen controls when you have your thumb touching it, in theory. I experienced a few times when I lifted my thumb and it seemed to still engage the onscreen control for a few seconds messing up my game.
Even though most of The Fling is clear, your can't see much of what's under it. That's not a problem with most games. The larger design of The Fling I have doesn't fit smaller devices like my Kindle Fire or my iPhone. Ten One Designs makes a mini version that might fit better on small screens.
Conclusion and Recommendation
The Fling isn't new, having won MacWorld Best of Show award last year. Some people love it, but for my tastes, I don't think that it adds enough to justify both the expense and the need to carry around the accessory. You do get a little black carrying bag with a drawstring, which protects it and keeps the suction cups clean.
Not being as big a gamer as some, I let my boys try it out. They play games on the iPad all the time. However, they had the same experience I did. Nice idea, but it doesn't improve game play enough to make it want to carry the thing around. My younger son hated it because he's gotten used to using the onscreen controls. My older son was indifferent, saying he could take it or leave it.
You can get The Fling at Apple retail stores, where I got mine, or directly from Ten One Designs. They cost $29.95 for a pair, $19.95 for one and the mini can be purchased in pairs for $24.95. I just wouldn't bother.