Flipboard Update Adds Google Reader Functionality and More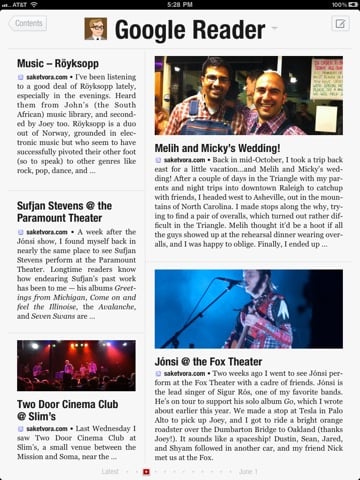 Flipboard is an amazing App for the iPad that just got a little more amazing with an update. Named by Apple as the App of the Year for 2010, Flipboard in its previous incarnation let you view feeds from Twitter, Facebook, and various other sources in a visual, magazine-like style. It has been one of my favorite ways to relax with the iPad while discovering new things.
From its launch a number of folks screamed loudly that they wanted Flipboard to do the same thing with RSS feeds. Well this new update brings that functionality as well as new ways to share information that you discover. It ties into your Google Reader account and brings RSS feeds you follow there. Most of the functionality (sharing, starring for later reading, etc.. is there.) I used it this morning to take a look at my usual long list of RSS feeds and it accomplished two things for me. First, it was a much more picturesque way of looking at the same information. Second, it actually made it a little easier for me to dismiss certain feeds more quickly allowing me to plunge through a number of feeds more quickly. Flipboard also adds functionality to view Flickr feeds as well with this update.
I haven't really experimented with the other new features as of yet, but so far I'll say that one of my favorite Apps on the iPad just got better.

As an Amazon Associate I earn from qualifying purchases.