Follow Up on the Gateway E295/C-140X
I've been evaluating and trying out some new devices lately (and getting ready for a new round of evaluations soon.) So, I thought it would be a good time to do some follow up on the Gateway E295/C-140X Convertible Tablet PC.
The Gateway E295/C140—X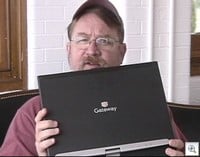 If you're looking for a desktop replacement with Tablet PC functionality, I think the E295/C140—X would more than serve your needs. (Make sure you check out the InkShow on The Gateway E295/C-140X) In fact, within that desktop replacement context, I think this convertible Tablet PC is a real winner. Everything I threw at it these last several weeks handled just fine. I'm impressed with the Inking and kudos to Gateway for abandoning the FinePoint digitizer in favor of Wacom. Given my schedule I never did install Vista on the device instead sticking with XP. That was a factor of time more than anything else. I would imagine the Tablet PC experience would be even better with Vista's Tablet PC improvements.
The Widescreen
I've stated many times that I'm not a widescreen Tablet PC fan. That said, after few weeks of usage I've come to really enjoy the 14" WXGA screen on the Gateway. Going back to a 12" screen leaves me wanting more on some occasions. I've always seen the appeal of the widescreen models, but I don't think they make much sense in my mobile environment. As a desktop replacement, however, that is another story.
Performance
Since I've been using a Lenovo ThinkPad X61 Tablet PC, a lot of my comparisons are within that context. The two machines are configured differently, (The Gateway has 1GB of memory and the processor is 1.8Ghz, The Lenovo has 2GB of memory and the processor is 1.6GHz) so direct comparisons don't really mean that much and would be unfair in my opinion. That said, I noticed no significant differences in performance between the two machines.
Battery Life
As I said in the InkShow review the 8—cell battery booted up showing about 5.2 hours available. In practice I was getting about 4.4 hours using Power Optimized settings. Switching to the 12—cell battery, I was able to stretch that to almost 7 hours which is impressive. If I were going to purchase this device as a desktop replacement, I'd opt for the 12—cell. The extra weight isn't going to matter much in that case.
Lack of Auto-Rotate
Although the Gateway stayed on my desk most of the time, the few occasions I did put it into slate mode left me wishing that they had included an auto-rotate feature for the screen. Sure the button is easy enough to push, and I'm sure I'd get used to that over time, but I do miss being able to auto-rotate the screen.
Final Thoughts on the Gateway E295/C-140X
As I said earlier, if you're looking for a desktop replacement with Tablet PC features, I don't think you have to look far beyond this Convertible Tablet PC. It has enough power and functionality to handle most needs. If my life and work style were a bit more deskbound I could see myself shifting my scenario and using the Gateway in just this way with a UMPC when I needed to go mobile.

As an Amazon Associate I earn from qualifying purchases.