For Honor Release: PC Specs, Beta & Modes
When Ubisoft first said that its teams were working on a hack and slash experience, the gaming press was a bit skeptical. The company had never done them before, and their very nature demands tight controls and a decent story. At the same time, gamers want detailed, full-fledged titles with enough meat that they don't feel cheated spending $60 on. The For Honor release is among Ubisoft's first launches in 2017. It's also one of the most exciting games they've revealed yet.
For Honor doesn't arrive on store shelves until February on Microsoft's Xbox One, Sony's PlayStation 4 and PCs running Windows. Before release arrives, there's plenty to know and learn about the upcoming title.
For Honor Release Date
Ubisoft confirmed earlier this year that For Honor will launch on Windows PCs, Xbox One and PS4 on February 14th 2017.
For Honor Has Authentic Warriors and Civilizations from History
In For Honor the world's many different fiefdoms and factions at war with each other. Players get to take on the mantle of a warrior from each of these factions. Rather than create factions specifically for the game, For Honor bases its playable characters and warfare on human history. The factions are inspired by civilizations that existed long ago. So for example, there's the Samurai from Asia and a Knights from Europe.
It'd have been easy for Ubisoft to reskin the same characters and play mechanics across the different fiefdoms, but that's not the company did. Instead, each warrior offers specific combat roles. The Shugoki does big damage, but it's big and cumbersome. You can't successfully take on some of the game's other characters that are quicker and more agile. On the other hand, many of those more agile characters have more complicated controls that you need to master.
The Samurai faction consists of the Kensei, Shugoki, The Orochi and the Nobushi. Fighting for the Vikings are the Raiders, Warloards, Berserkers and the Valkyries. The Knights consist of the Wardens, Conquerors and the Peacekeepers. The Lawbringers is listed on the game's website as a member of the Knights too.
Again, each of these warriors has their own style and control scheme, allowing players to get comfortable with specific ways of fighting over time. The fighting styles become very important when players start to master the combat and countering mechanics that are at work in the game.
The For Honor Story
Lots of gamers love multiplayer, but many buy for a great single-player experience that offers a strong narrative. Rather than focus completely on game modes like Dominion, Ubisoft has packed a story into the title.
The narrative mode explains what's going on and why the different regions are interacting with each other the way that they are. The same warriors from the game's single-player campaign are used in its multiplayer modes and experiences. It appears that every one of the story's levels offer a different character opportunity. If that ends up being the case, expect to go into the multiplayer with a rudimentary understanding of how the different characters behave and work.
For Honor Online Modes
Dominion, Skirmish, Elimination, Duel and Brawl are all multiplayer modes coming with For Honor when it launches.
As you might have already guessed, Duel is focused on direct combat. It's your job to stare down an opponent and defeat him by any means necessary. You'll need to block, duck and doge. You'll need to attack and survive. If it's helpful, think of Duel as a match experience akin to playing another friend in Street Fighter.
Brawl features two on two combat and the last team member standing wins the match for their team.
You might find Dominion the most familiar. It devices eight players into two different teams to battle each other and NPCs of the opposing team. Only by dominating strategic areas in the arena is a team able to take home a win.
The other two modes aren't listed on the For Honor website yet. News of them has popped up in the For Honor Wiki community though.
Skirmish tasks players with killing more than the other team to get the greatest number of points and win the match. Elimination charges players with killing off the opposing team. Once killed, players can use in-game cameras to monitor the action and attempt to help their friends survive.
For Honor Beta
The For Honor Beta kicks off January 26th and lasts until January 29th, Ubisoft confirmed in a recent post on its blog.
During the For Honor Beta the War of Factions multiplayer and rewards system will be live. Progress won't transfer to the final game, but special in-game rewards will for those that participate and win.
For Honor PC Specs & System Requirements
For Honor will require a robust PC to get the most of its visuals. That being said, just getting the game running should be pretty easy for most gamers with a fairly modern setup.
The game's minimum requirements include an Intel Core i3-550 processor or something equivalent to it. The NVIDIA GeForce GTX660, GTX750ti, GTX950, and GTX 1050 are also supported. The developer does not that any graphics card used with the game needs at least 2GB of dedicated video RAM. 4GB of system RAM is needed too. PCs that meet the minimum requirements will get roughly 30 frames per second at a resolution of 720p.
To get 1080p and 60 frames per second, users need an Intel Core i5-2500K processor or its equivalent from AMD. Also needed is at least an NVIDIA GTX780 graphics card with 2GB of RAM and 8GB of system RAM.
PC gamers can enjoy For Honor with Xbox 360, Xbox One, Xbox One Elite and PS4 controller. A mouse and keyboard works too.
The World of For Honor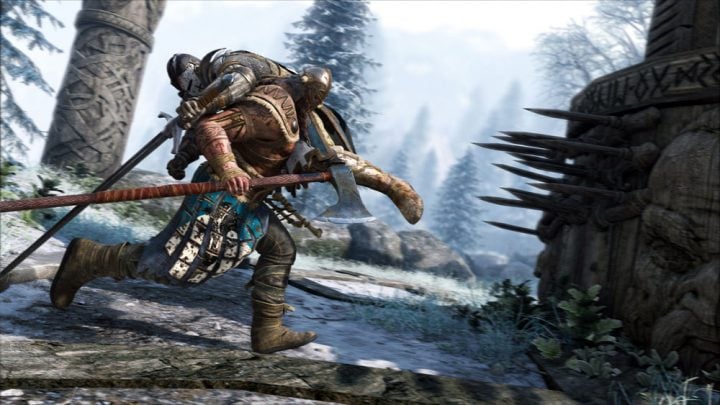 Just as Ubisoft has tried to create authentic characters from history, it's focused on authentic environments. For Honors' maps are better described as arenas. They're dangerous, dangerous places where you die by the blade of an opponent or fall prey to a hazard you didn't foresee. You can find yourself pushed onto spikes or down into a creek.
Each of the game's three civilizations has two of their own maps. These detailed, highly visual maps are inspired by real architecture attributed to that faction in history books.
Again, For Honor arrives on store shelves and digital stores on February 14th, 2017. The game is already available for pre-order at GameStop and other retailers.