For now, PC vendors reaching for ARM over Intel Atom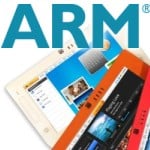 A report from Digitimes notes that, despite aggressive promotion from Intel, PC vendors aren't going to sit on their hands waiting for Intel's Oak Trail system to arrive. At least until then, they'll be focusing on ARM and Android.
Availability of ARM CPUs, lack of availability of the more efficient Oak Trail platform for Intel Atom, and immediate demand for tablet computers are driving the move as much as any technological reason. Also cited were the higher price, power consumption and heat dissipation of Atom compared to ARM. Operating system was mentioned, but it's more of a symptom of the move rather than a cause. Since Windows won't run on ARM, it's negatively affected by the situation, but MeeGo and Android, which run (or will run) on both platforms, are expected to be among the tablet offerings, present and future.
Tablets running Intel Atom and Windows are still in the pipeline, so vendors can both "maintain their relationships with Intel and Microsoft, and also to gauge market demand," but the volumes will be small. This is in line with Steve Ballmer's comments about things changing when Intel's Oak Trail is released. As Mary Jo Foley explained, with Oak Trail due early 2011, we likely won't see a real boom in Windows 7 tablets for almost another year, leaving ARM as the processing system of choice until then.