Ford C-Max Hybrid MPG Rating Updated, Ford Pays Owners Up to $550
Ford received a lot of flack about the MPG rating of the 2013 C-Max Hybrid. During a press conference earlier today, Raj Nair (VP of Global) announced that the Ford C-Max Hybrid will now contain a fuel economy label showing a revised MPG rating of 43MPG. As compensation for people who purchased or leased a C-Max with the 47MPG label, Ford will pay a one-time payment of $550 to people who purchased and $325 to people who leased.
Even though the Ford Fusion Hybrid is a sedan and the Ford C-Max Hybrid is a compact utility vehicle, Ford only tested the Fusion Hybrid for the EPA and used the same number for both. According to Mr. Nair, the EPA requires testing of the highest-volume selling vehicle of the same drive train. Since Ford anticipates selling more Fusion Hybrids than C-Max Hybrids, Ford only tested the MPG of the Fusion. Both the Fusion and C-Max share the same engine and power train, so the EPA only requires testing and publishing the Fusion number on the label.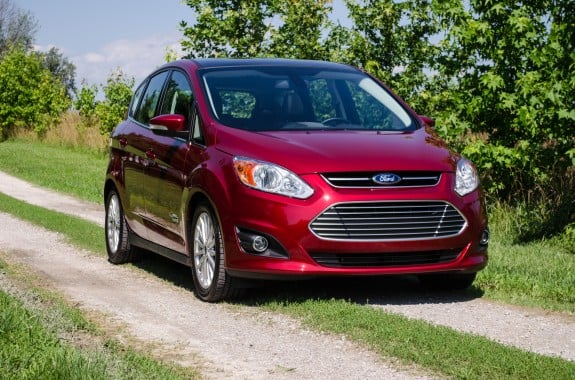 We recently tested the C-Max Energi (which carries a 43mpg label for gas-only operation) and achieved that number even under stressful test conditions. The new rating on the Hybrid places it in the same MPG as the Energi under gasoline-only operation, and should be easily obtainable. Interestingly, the plug-in Fusion Energi and C-Max Energi contain a lower gasoline-only MPG number. That is because Ford anticipates selling more C-Max Energi units than Fusion Energi units, and the EPA requires the label to be from the highest volume vehicle. According to Nair, "It works both ways."
Refusing to comment on pending legal issues, Mr. Nair touts this move as a customer-service one, and is making the payments available to anyone who purchased a C-Max Hybrid under the 47MPG label. They will be notified by mail in the coming weeks, and it appears the checks will be mailed right to them. Currently Ford has no plans on retesting any of their other vehicles, but expect some changes to the C-Max in 2014 to make a difference in MPG claims.

As an Amazon Associate I earn from qualifying purchases.