Forza 6 Release Date Details
Microsoft's Forza 6 racing franchise is a core part of the Xbox platform. Between the Motorsport and Horizon versions, the franchise offers the best racing experience on the Xbox One possible. Tons of cars, all heavily customizable, let users create their dream ride and race it against their friends. Detailed tracks give players the sensation that they're participating in real races around the globe. Commentary from Top Gear adds an auto enthusiast's perspective to every career race experience.
The Forza 6 release date is coming up soon and there's plenty of new tracks, cars and features for anyone who wasn't necessarily thrilled with Turn 10's first Forza game on the Xbox One, Forza 5. Here's all the Forza 6 release date details you need before you pre-order, after you've made your purchase and as you head to your local GameStop or gaming retailer to pick up your copy on September 15th.
Forza 6 Release Date Details: Price & Release Date
Lets start with the Forza 6 release date, since that's what those excited for the game care about most. Foza 6 will kick off the fall gaming season for Microsoft on September 15th. On that day users will be able to purchase physical copies of the game directly from GameStop, Wal-Mart, Amazon and practically anywhere else that sells games.
Xbox One owners who are comfortable with a digital copy of Forza 6 don't have to wait until September 15th. Microsoft's Xbox Store is taking digital pre-orders ahead of the Forza 6 release date. Those pre-orders start at $59.99 and include a Mazda MX-5 and the Foza 6 Ten Year Anniversary Car Pack. When pre-ordering through the Xbox Store, Forza 6 is available to download immediately, but not playable until release night.
Forza 6 isn't coming to the Xbox 360. You'll need an Xbox One to play.
Forza 6 Release Date Details: Different Versions
Forza 6 has tons of different versions, all tailor-made for different kinds of buyers. In the Xbox Store there's the Forza Motorsport 6 Standard Edition for $59.99, Forza Motorsport 6 Deluxe Edition for $79.99 and the Forza Motorsport 6 Ultimate Edition for $9.99.
Forza Motorsport 6 Deluxe Edition comes with the Mazda MX-5 and the Ten Year Car Pack that the Standard Edition comes with. Also included is a Forza 6 VIP Membership that unlocks the 2013 Ferrari 458 Speciale, 2012 Aston Martin V12 Zagato, 2013 Lamborghini Veneno, 2016 Ford Shelby GT350R, and the 1997 McLaren F1. Only VIP members get these five cars and access to future "community gifts" and double earnings when successfully completing a race. Buyers also get the Forza Motorsport 6 Fast & Furious Car Pack, a collection of vehicles featured in the Fast & Furious movie franchise.
Forza Motorsport 6 Ultimate Edition includes all the aforementioned content plus the Forza Motorsport 6 Car Pass. Car Pass users will get 7 new cars delivered each month for six months. For now, Microsoft isn't selling the Car Pass separately from the game's online bundles.
The Forza Motorsport 6 Car Pass is available separately at GameStop for $29.99. The retailer also carries the Forza Motorsport 6 VIP Membership for $19.99 and standard copy of the game for $59.99. GameStop shoppers get the Anniversary Car Pack, an exclusive SRT Hellcat Battletoads car skin and a 2015 Audi TTS.
Sitting atop all of this is the Xbox One 1TB Limited Edition Forza Motorsport 6 Bundle. The 1TB Xbox One console with upgraded controller includes a digital copy of the game. The chassis of the console and the controller are painted blue, with engravings inspired by Forza 6. The Xbox One 1TB Limited Edition Forza Motorsport 6 Bundle costs $399.
Read: Which Xbox One Bundle Should You Buy?
Forza 6 Release Date Details: New Features & More Everything
Turn 10's previous racing game received a lot of attention because it was an Xbox One launch title. The game acted as a perfect example of what was capable with the Xbox One. Xbox Live powered the Drivatar system that learned player's driving habits and then let their profile compete with their friends when they were offline. Detailed cars and tracks showcased how powerful the Xbox One's internal hardware was.
Read: Forza 6 Impressions
Forza 6 seems like less of a showpiece and more of a return to form for the franchise. Forza 5 had a very limited number of cars and tracks available at launch. That wasn't good, even if the tracks that were there looked gorgeous. Forza 6 has 26 different race tracks and 450 different vehicles. There's a night driving mode and some tracks have rain and water effects so that players can prove their skills in any condition. Turn 10 has updated the physics engine in the game to make that water affect feel as real as it possibly can. The Drivatar system is back too.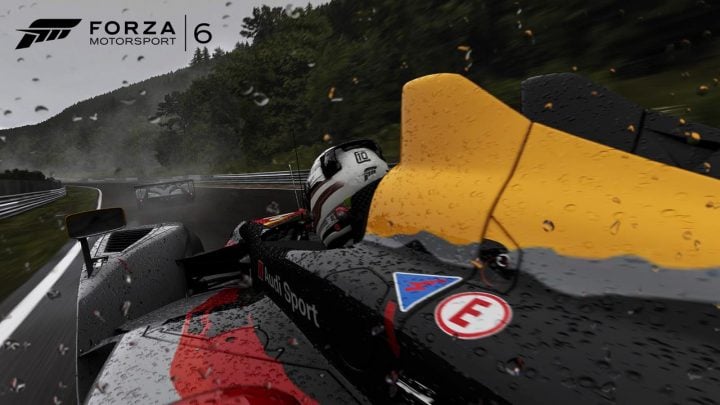 Multiplayer now lets users play in groups of 24. Top Gear commentary is back, but without one of the show's presenters.
Mod Packs are a new addition to the game. Really, they're consumables, quick ways of accentuating or enhancing your driving experience. Mod Packs are earned with the credits that users get as they progress through the game. You can't buy them ahead of the Forza 6 release date and it appears they won't be purchasable through the Xbox Store either.
Good luck with Forza 6, ahead of launch the game appears to be the a return to form for the Forza franchise after the stumble that was Forza 5.

This article may contain affiliate links. Click here for more details.