Free Inking Applications for your New Tablet PC
So if you woke up Christmas morning and discovered a new Tablet PC under your tree where do you start? What first? Which applications should I grab?
Well, this post won't cover all your bases, but it will get you started with a few Inking applications on your Tablet PC.
The place to check out applications for your new Tablet PC is Tablet PC Post. You'll find a collection of great software there. Some of it is free, some of it is shareware, and of course some of it requires that you pay. Tablet PC Post has everything from educational apps to games to productivity apps, and it is a great resource for a Tableteer who is just getting started.
Two applications, both free, that I recommend will get you started Inking:

InkSeine from Microsoft Research. Many Tableteers feel like this is what Inking is all about. InkSeine lets you Ink, sketch, capture, collect, just about anything and its handy scroll wheel feature gives you some excellent navigation assistance with the pen as well. If you want to get the feel of Inking on the screen, this is a great piece of software to check out.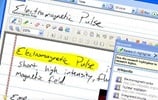 Tablet Enhancements for Outlook. Of course you need to be running Outlook to use this, but this excellent piece of software from Josh Einstein is now free to all comers and makes Inking in Outlook feel more like a first class citizen.
Here at GBM we've got InkShows one these two excellent applications (and many others) The numerous GBM InkShows will give you a taste of what's out there and how to start incorporating Inking into your Tablet PC experience. 
And of course your Tablet PC comes with Windows Journal which is a great way to get started Inking right out of the box. There are certainly other applications to explore, but these will get you started Inking in grand style. Enjoy Inking away on your Tablet PC

As an Amazon Associate I earn from qualifying purchases.