Free iPad 3 on Facebook? Don't Get Scammed
On March 7th Apple will announce the iPad 3, a new version of Apple's best-selling tablet. Apple hasn't confirmed any details about the new iPad or a release date, but that hasn't stopped schemers from offering up a free iPad 3 to Facebook users.
The Apple event invite, shown below, features what may be the new iPad 3. We expect the iPad 3 will have a Retina Display, faster processor and possibly 4G LTE connectivity.
The iPad 3 price is expected to stay at $499, so why is some stranger going to give you an iPad 3 free? — Easy, they aren't.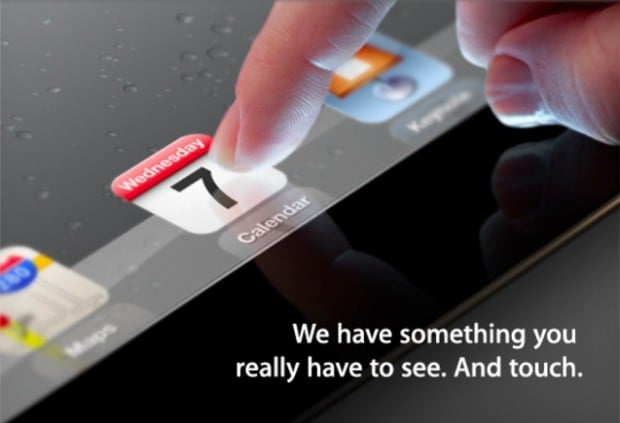 Read: Apple's iPad 3 Event: What You Should Expect
Just like there is no iPhone 5 tester program and the iPhone 5 Facebook giveaways weren't really handing out Apple's new iPhone for free, the free iPad 3 pages on Facebook won't give you anything but a headache.
The Naked Security Blog at Sophos warns us of the dangers posed by these "spammers and scammers." The free iPad 3 Facebook pages have exploded overnight, attracting hundreds of likes from unsuspecting users, looking for a free iPad.
Contrary to popular opinion, there is a free lunch, but there is no free iPad 3. There never will be a free iPad 3 through these programs.
Why do people set up these pages and websites? Simple. They want to make money off your desire for free Apple gadgets.
The free iPad 3 websites and Facebook pages want to capture your personal information and trick you into doing menial web tasks that earn money for the site operator. This can include joining services that give the owner a kickback, filling out surveys and other tricks.
Some of the pages are even going out and tagging you in their photos to try to lure you in, even if you aren't searching for a free iPad 3 on Facebook. You can see an example below, where nearly 50 people are tagged in a photo.
Facebook isn't the only place you'll see offers for a free iPad 3, but it's always the same deal. Whether it's on Twitter, Facebook, Myspace or in your inbox, free iPad 3 offers aren't going to get you an iPad 3 any faster than standing on a street corner asking strangers to buy you one.
I agree with the Naked Security Blog, Facebook should do something about these pages and websites, that only exist to trick users. If Facebook has the resources to take down pictures of breastfeeding mothers and pages, the company should devote resources to keeping spam  like this off of Facebook.
Remember.
Don't Like free iPad 3 pages.