Free iPads for Fashionable New Yorkers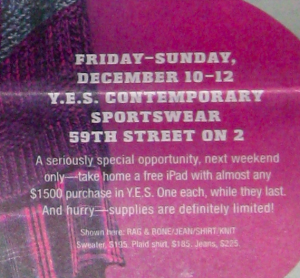 Remember when we mentioned that we're at the dawn of the free iPad era? Well, here's another example of a company giving away free iPads…with a catch. Bloomingdale's is giving away free iPads (16GB Wi-Fi) to anyone that spends $1,500 or more in its 59th St. store's Y.E.S. department.
Apparently, I'm not fashionable enough to know what the Y.E.S. Department is, but I'm guessing its the department that sells the clothes Sunday New York Times ad. Hitting the $1,500/free iPad mark won't be all that difficult in Bloomingdale's Y.E.S. department considering that the Sweater in the photo is $195, the shirt is $185 and the jeans are $225.
The free iPads are available while supplies last, which probably won't be long. The deal kicks off December 10 and ends on the 12th.
via Forbes

As an Amazon Associate I earn from qualifying purchases.